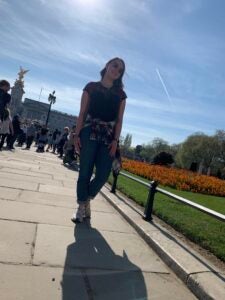 Everyone, of course, says they learned something from being abroad. And of course, I would say the same. I learned to speak French well, and I learned about Belgian culture and the history of the European Union. However, I think my two biggest lessons were learning to travel alone and that I should be a tourist in my own city.
To start, I'll discuss how I traveled alone. While studying in Brussels, I took two big solo trips: a week in Prague and a weekend in London. Solo travel gets lonely! You have to be prepared for that. I managed to quite quickly become friends with my Airbnb hosts both times. My London host invited me out to see her friend DJ, which led to a fun evening of talking to new people. This eased my craving to be around people after walking for miles alone. In Prague, I had really long conversations with my host about European politics, which was great fun!
I try to find those moments of talking to people as much as possible, which occasionally might lead to more. Sometimes it's just a small conversation—I've talked to people at bus stops and while waiting in lines.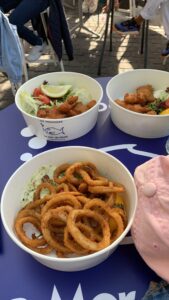 Since traveling alone doesn't let you share food with a friend or partner, I find that it gets a bit more expensive to try everything you want. Unfortunately, the only way to reduce that is to try fewer dishes. Because food is a priority to me, I make up that cost by not going to many museums and walking everywhere instead of taking transport.
My favorite cheap activity is geocaching. This lets me explore so many of the places I visit and learn about a place's history, architecture and parks without going to museums or paying for tours. I have found myself in the narrowest streets of cities or exploring a sculpture hidden in the corner of a park. I love finding these little charms in a city. Being solo also allows me to walk to all these places without worrying whether my friends want to join me (since not everyone cares for that stuff).
The lesson I really want to take back to Austin and Houston is to be a tourist in my own city. I know it's a bit cliché, but it makes sense. After a month of exploring Brussels, I ended up settling into a routine and sticking to the same spots and same people. While that was nice, I found that at the end of my program, I hadn't explored everything I'd wanted to. There were still museums and parks I had forgotten to see. This made me remember all the weekends I spent doing the same thing instead of looking for a new spot. Given my short time frame, I wish I had gotten to enjoy a few more spots.
I lived in Sugar Land, a suburb of Houston, for nine years, and I feel like I barely know the city. I rarely went to the center or discovered the many parks and museums. In January, when I move to a more central location in Houston, I hope that on my weekends, I manage to be a tourist and explore the many restaurants and parks that Houston has to offer.
I also feel like I need to make sure I explore more parts of Austin before I graduate next fall. There are so many parks and amazing restaurants that I want to explore, and my one wish for this fall is to spend my free time finding new spots instead of just falling into the same routines.
Lastly, I would like to share a few of my favorite spots while I was in Brussels, just in case any of you ever find yourself there!
Nordzee: The best seafood ever. As almost every tourist website will tell you, this place is wonderful. Every day the tables in the plaza by the place are full of locals enjoying the wonderful shrimp scampi, oysters or croquettes. Definitely one of my favorite spots in the city.
Charli Bakery: This is on the same street as Nordzee. It has my favorite almond croissant. Make sure to get there early, as I have gone in twice now after they've sold out. The apple tarte tatin is also wonderful.
Exki: This is a chain, but I love the John sandwich there. It is a beef tartar and salad sandwich, and I couldn't get enough of them!
Stella: I am not a coffee person, but this place has a great red latte with a rooibos tea base. I also love these cute pistachio cookies they often have. Stella is also the name of the dog that is always there.
Wolf Sharing Market: This is a food hall with great food and drinks. They have a few places that are also restaurants, but here they have smaller portions at cheaper prices. I personally love the Wolfie at the Greek place, anything from the African sharing food place called Toukoul, and a Syrian place called My Tannour.
Dim Yum: This place has really good handmade dumplings. The coco soup there is also one of my favorites.
The Crazy Circle: This is a lesbian bar with really cool events going on every weekend!
Gaston: ice cream
Bia Mara: fish and chips
Hui Mian: noodles
Les Marmites du Monde
Le Clan des Belges
Fin de Siècle
That's what x said: art gallery
Comics Art Museum
This post was contributed by Nelly Akhmadikina, a Global Ambassador for Spring 2022. Nelly is a fourth-year public health and biology student studying abroad in Brussels, Belgium. Read Nelly's first post here.