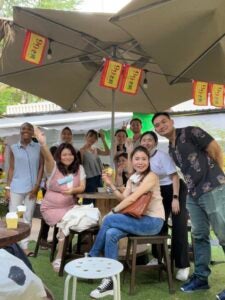 After applying to The University of Texas at Austin in Fall 2019, I received a rejection letter and was instantly devastated. However, I applied to UT knowing about the possibility to appeal admissions decisions. I appealed and waited until April 1, 2020, when I finally received my "Gone to Texas" message and vowed at that moment to always take a chance. I am eternally grateful UT took a chance on me three years ago.
Three years after that admissions decision, I took a chance by coming to Singapore for a summer internship. I did some basic research on the program, Absolute Internship, and after reading reviews and program opportunities I decided to apply to the one in Singapore, not knowing much about Singapore itself.
When I was accepted, I was ecstatic because taking a chance worked out and I would be traveling to a new and exciting place. I didn't even think about the fact that I was traveling almost 10,000 miles away from home without knowing anyone. But some of the best experiences I've ever had have been traveling with people who were once strangers. Whether it be 11 days in Berkeley, California, or one and a half weeks in Fiji, I like to take chances.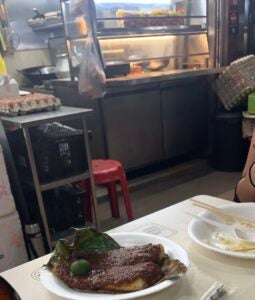 About two weeks into my program in Singapore this summer, I was notified that I had received a decision on my internal transfer application to become a psychology major. I was accepted and am now a double-major in marketing and psychology, which is what I have wanted since I first came to UT.
My motto since coming to Singapore has been: "I'll try anything once." Though not entirely true (since I didn't go bungee jumping with some fellow interns), for the most part, I have done my best to try everything.
I tried something called durian, a Singaporean fruit. Everyone at my office had a good laugh when me and another intern, Eli, tried durian at a café after work. I didn't like it very much because I thought it tasted like sour milk, and the texture was similar to yogurt. At Hawker Center, a food court, we ordered a stingray that was cooked on a banana leaf and served with sauce. The stingray was delicious and I will definitely be having it again.
At the end of the day, you don't know if you're going to like something until you take a chance. Without being too philosophical, I truly believe that we have to enjoy life while we have it because it can be gone in the blink of an eye.
Less than a year ago, I lost my dad in an accident. Every time I think about not doing something, I remind myself that he was always telling me, "Just try it." He tried so many times to get me to eat chitlins—pig intestines—and I adamantly refused. I eventually gave in to trying grilled octopus, and then told him I didn't enjoy it. He would laugh to see me eating grilled octopus in Singapore.
I'm glad UT took a chance on me, which allowed me to take a chance on Singapore. I'm glad my dad made me take chances—and because of him, I always will.
This post was contributed by Nichelle Haley, a Global Ambassador for Summer 2022. Nichelle is a marketing and psychology double major interning abroad in Singapore. Read her first blog post here.