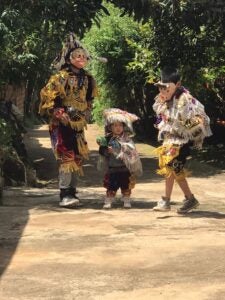 As my time here in Guatemala draws to a close, I've been able to find an extra special appreciation for my experiences and what I've learned from them. My program has put me in a position to learn about the history of not only this country but of many other countries, as well, and how they intersect.
I feel so lucky to have been able to come when I did, for a myriad of reasons. During my stay here, I was fortunate enough to witness and take part in many different cultural festivities, such as the celebration of patron saint days, which are celebrated throughout the country in numerous ways.
The indigenous population here is lively and vibrant, but due to many historical factors, their community has faced dwindling numbers and the erasure of many customs and traditions. The patron saint day provided me with a firsthand glimpse of a widely celebrated holiday rooted in colonialism that the indigenous population has reclaimed with their own customs.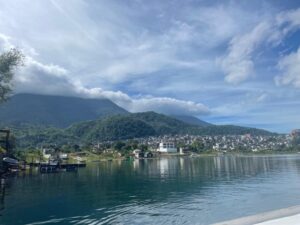 In Antigua, one of the original capital cities under colonial rule, the celebrations were led with parades showcasing traditional bands and floats, as well as children modeling traditional Spanish clothing during the procession.
On the other hand, in the rural village of Chichicastenango, one of my favorite parts of the celebration was a dance depicting local history and the Spanish conquest. The dance was performed by children of the village dressed in lavish, ornate costumes decorated with gold fringe, bells and intricate wooden masks.
The contrast of these celebrations and their emphasis gave me deeper insight into how these groups of people view their history and connection to this holiday. Being able to visit different parts of Guatemala has allowed me to meet a vast spectrum of people and see how they live.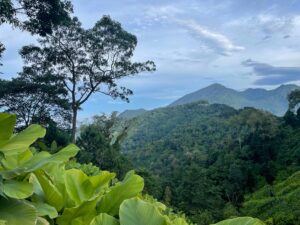 Visiting Lake Atitlán was one of the most enriching experiences of the trip, by far. The beautiful lake is surrounded by rural villages situated right next to lavish resorts.
As we rode a boat through the lake, we witnessed locals fishing in small canoes as well as grandiose boats carrying parties of people back and forth. Our tour guide explained to us that the water, so important and sacred to the locals, is now unsafe to swim in due to all the pollution and toxic waste released by these lavish resorts and other big businesses.
When we reached the other shore, one of the local indigenous women was gracious enough to show us around her village and educate us on the history her people have endured. Since the villages are extremely remote, some of them nearing 6,000 feet in elevation and located across an extremely deep lake, many of the atrocities these communities face are stories never heard before.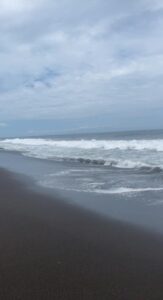 It is one thing to learn about a civil war in a classroom and another to see the devastating effects of destroyed neighborhoods and hear the stories of those who have lost loved ones. I was honored that she shared her story with us and was reminded how important it is to cherish your own stories so that they can be passed down.
I will always cherish the story I have gotten to write for myself while here. From beach trips with my classmates in Monterrico to hiking up mountains, I will never forget my time here. I've been able to learn from so many different people and connect the dots to navigate on my own. Even the fun facts gave me a deeper appreciation for my experiences.
For example, when we arrived at the black sand beach in Monterrico, I was truly astonished at the crisp color. I almost didn't believe my Spanish teacher at first when she told me all the sand came from the eroded volcanic rock of the region. I still didn't believe it until I actually hiked the Pacaya Volcano and could physically sink my feet into the plush bed of black sand.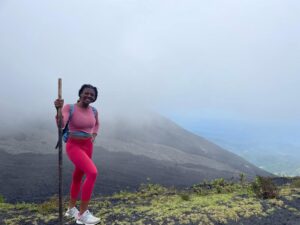 From the landscape to the people, everything about this country is truly beautiful.
I have always felt a love and admiration for a diverse array of cultures and histories around the world, but during this program, I've been able to witness firsthand things I'd only ever learned in history books.
While I've had lots of fun, I have also learned more than I ever could in a classroom. Regardless of interests or past experiences, I would recommend that everyone study abroad. There are some things that can't be taught in a classroom.
This post was contributed by Morgan Thompson, a Global Ambassador for Summer 2022. Morgan is a fourth-year public relations major studying abroad in Antigua, Guatemala. Read her first blog post here.