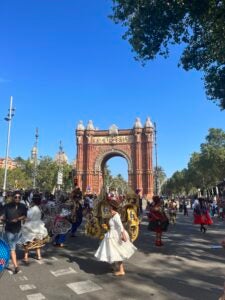 A part of your study abroad pre-departure preparation will likely include training on how to manage "culture shock" in an unfamiliar environment. At first, these new experiences can be challenging and may add to a feeling of homesickness.
It's best to approach adjusting to a new lifestyle with the mindset of looking for the beauty before the differences. After all, there's a reason things are the way they are.
In Spain, for example, meals can be very long, and dinner time in particular could be considered very late to someone from the United States. However, this is because taking the time to converse and share a meal with your companions is extremely valued here.
According to our student mentors from Santander, it's more common for friends to eat out and spend time at a restaurant than hang out in someone's apartment. As a result, waiters often only bring the check after you've asked for it, so as not to interrupt your time together. The incredible food here in Spain is another reason why you should take your time to enjoy it with company.
Siestas are another aspect of Spanish culture that should be admired. At around 2 in the afternoon, we're released from classes, most businesses close, and everyone is encouraged to rest before resuming afternoon activities at around 5 p.m., when businesses begin to reopen.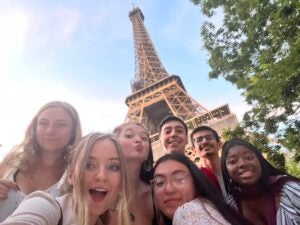 Getting to rest before continuing our afternoon activities — such as catching a few waves at Somo Beach — has made evenings so much more enjoyable. Since the sun sets at around 10 p.m. here, most restaurants, after reopening, stay open until 11 p.m. or 12 a.m.
After getting so used to meeting our friends for gelato at 11:30 p.m., our weekend trip to France was a bit of a rude awakening when we realized that, just like in the U.S., restaurants close earlier.
Another unique aspect of studying abroad in Spain is the ability to travel to a variety of different places on our weekends. Many of us have visited cities within Spain, like Barcelona, Sevilla, Bilbao, and Madrid, as well as weekend trips to places outside of Spain, such as Vienna, Austria, and Paris, France. In addition to the daily afternoon activities planned for us by our awesome student mentors, we often spend our coffee breaks and evenings planning these weekend trips.
In the moments when I begin to feel homesick or stressed about the upcoming school year, I remind myself how unlikely it is that I'll have another such experience in the near future.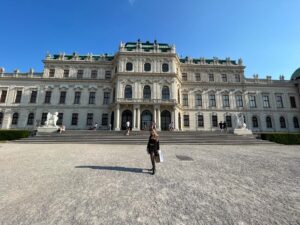 When's the next time I'll wake up excited for the unexpected, knowing there's a new adventure awaiting that afternoon or weekend? Or the next time I'll stand in front of paintings and buildings I've only ever seen in photos? Or experience drastically different cultures in the span of a week?
It is in these instances that you must learn to let go of expectations and enjoy the moment.
True immersion is not just about learning the language but also learning its complexities. This includes the use of certain phrases, idioms, and euphemisms that separate a fluent Spanish speaker from one who has only just begun to speak the language.
In our advanced grammar class, we're learning how to say phrases such as "I ended up" and "I used to," since beginners usually resort to rough translations when trying to communicate these expressions.
An ongoing joke in our group is how we measure our fluency: If a native speaker switches to English after hearing you respond in Spanish, you know you've got work to do. But if they continue speaking to you in Spanish, you've begun to make a transition in your proficiency levels.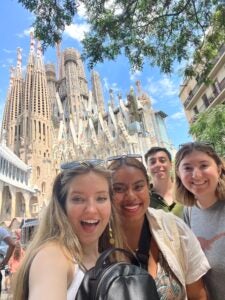 Learning how the Spanish language changes in different countries has been really fun and is equally important for fluency. Certain phrases, while used in common conversation in one country, may not be as acceptable in another, and knowing this is one aspect of cultural and linguistic awareness.
Although studying abroad requires that one learn how to adapt to many new changes, learning to be spontaneous while still being intentional definitely enhances the experience. You may not know what the next day will have in store for you, but you can go into it with the attitude that you're going to enjoy this unique experience and learning opportunity.
I recommend using a form of journaling so you can look back and reflect on your personal growth. I bought postcards in each city I visited and wrote a bit about our day there. Eventually, I'll look back at them and relive all of our hilarious snafus alongside the moments of pure wonder.
This post was contributed by Gillian Witten, a Global Ambassador for Summer 2022. Gillian is a pre-med neuroscience major studying abroad in Santander, Spain. Read her first blog post here.