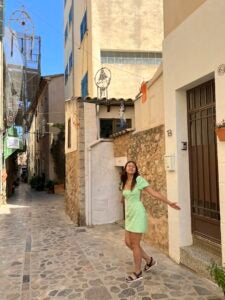 Throughout the pandemic, I spent my time worrying about what the future would be. The uncertainty pressured me to involve myself in as many activities as I could to "stay on top of my game." I was afraid of falling behind, and comparing my accomplishments to my peers became the norm.  
I juggled lab hours, shadowing, volunteering, and STEM classes, checking them off like the ABCs of a pre-med journey. But when I came across Absolute Internship, I knew I needed to take the chance to experience something outside of the expected. I wanted to spend my summer discovering something new, and I knew Barcelona was my opportunity to do so.  
In my internship, I was working as a graphic designer for a nonprofit that supports women-led startups. I had rarely entered the business and marketing world, but here I was in Spain, quickly learning the logistics behind running a startup and promoting it on various social media platforms.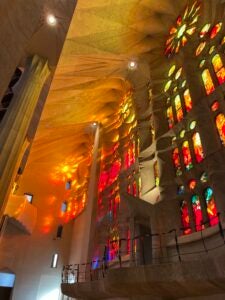 I always had a passion for graphic design, but it wasn't something that was utilized a lot in the STEM world. This internship gave me a chance to bridge between business and STEM and learn that many health tech startups rely on investments and networking to expand their impact. I got to meet so many businesswomen outside of health care who had the same passion for helping others.  
The work environment in Barcelona allowed me to explore more places than I could have imagined. I worked a 9-5 shift on weekdays — and when that time was up, everyone went home! After my work hours ended, I didn't have to worry about working overtime or having homework because I could continue my work the next day. This allowed me to see new parts of Barcelona on the weekdays and travel to different parts of Spain on the weekend.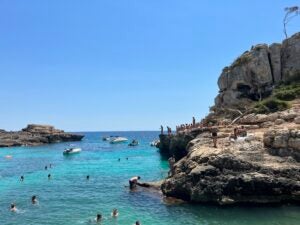 Since my last blog post, I've seen Park Güell, Casa Milà, Palau de la Música Catalana, Casa Batlló, Magic Fountain of Montjuïc and more, all across Barcelona. The city has such unique and beautiful architecture, each place with a different story and background behind it.  
Outside of Barcelona, I got to visit the beautiful island of Mallorca (yes, where "Love Island" took place). My friends and I spent the weekend beach-hopping, exploring its small towns and enjoying the island views as we drove around.  
Closer inland, I got to visit the big city of Madrid, where I visited the Royal Palace and shopped around their central plaza. It was amazing getting the opportunity to experience both a quieter, smaller town as well as a big, bustling city.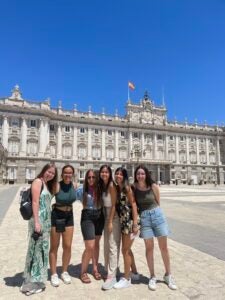 I am grateful that I got the chance to experience things outside of my usual pre-med track. I was constantly trying to live up to the expectations of such a rigorous path, feeling burnout around every corner. But studying abroad in Barcelona allowed me to dive deeper into other passions and gave me the chance to learn more about myself.  
I found friends from across the world, I reignited my passion for graphic design, and I fell in love with a city that felt like a second home. This experience gave me the energy I needed to continue my journey back at UT Austin. And at the end of my journey, I will return to Barcelona to say "Thank you!"  
This post was contributed by Vivian Nguyen, a Global Ambassador for Summer 2022. Vivian is a biochemistry major with a minor in health communications interning abroad in Barcelona, Spain. Read her first blog post here.