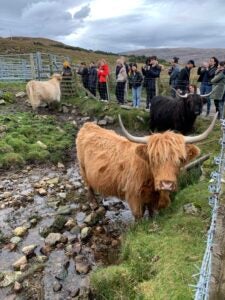 One month before I left for Edinburgh, I bought a journal so that I could record my adventures abroad. I loved the idea of reflecting on my personal stories later on, but I also feared that my time in Edinburgh wouldn't live up to my imagination.
What if something bad happens? What if nothing happens? What if I get so stressed with coursework that I don't have time to travel?
I suppose I bought the journal to force myself to do something worth writing about; the last thing I wanted was to return to Texas with an empty notebook! But what even counts as an adventure good enough to write about?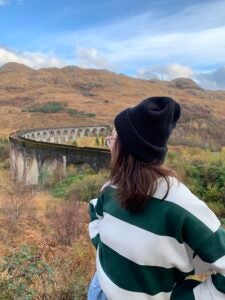 After living here for two months, I've realized that there are many types of adventures. First, you have the obvious type of adventure: a big trip planned weeks in advance. I've had the pleasure of going on many of these with a tour group for international students.
As a huge Harry Potter fan, I've visited Alnwick Castle, which appears in the flying lesson scene in "Harry Potter and the Philosopher's Stone," Loch Shiel, the fictional Black Lake next to Hogwarts, and Glenfinnan Viaduct, the iconic bridge that the Hogwarts Express travels over!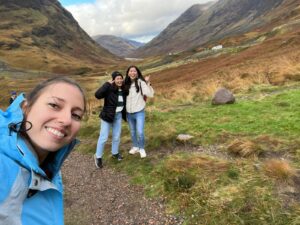 One of my favorite trips was to the Isle of Skye, a must-see in Scotland. Not only did I see the most picturesque views while hiking up the Old Man of Storr and looking over Lealt Falls, but I also tried sticky toffee pudding for the first time with some friends, and it changed our lives. We ate it in a matter of three minutes, and I have timestamps from the pictures to prove it!
The best part of these trips has been arriving without knowing anyone and leaving with amazing friends. For example, I met Nandini on the Isle of Skye trip when she sat down next to me on the bus. Our personalities and senses of humor matched perfectly, and we hung out the entire weekend! Afterward, on a particularly chilly day, she introduced me to people-watching in the Meadows and the world's best hot chocolate at Uplands Roast.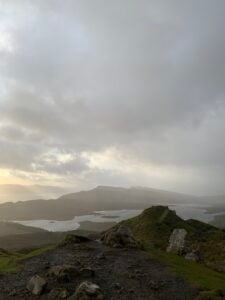 I met Amy and Indira at the pickup point for Alnwick Castle. We got lunch later in the week and I actually saw Amy again during the Harry Potter Bridge Tour! We're now planning a Harry Potter movie night with two other girls from Germany.
Adventures also happen when things do not go as planned. This happens very often, so you have to improvise. Rail strikes and train cancellations are especially common in Scotland. Once, after a solo day trip to Stirling, I arrived at the train station to see that my train back to Edinburgh was canceled! This experience made me thoroughly appreciate the value of off-peak tickets, which let me take the next train back without any extra cost.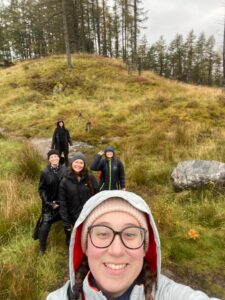 Another time, I went hiking over the weekend with my UT friends–Olivia, Andrea, Kyan, and Ashley–in Fort William. We had the supposedly smart idea to take a shorter route to the top of Cow Hill, not realizing it was incredibly steep. We had to take so many breaks to catch our breaths that Olivia improvised an entire story, "The Origin of Cow Hill and Why There Aren't Actually Any Cows," ending each chapter with a cliffhanger so we'd have to keep walking to hear the rest of the story. Eventually, we reached the top, and the view of Fort William in front of us and the mountains behind us made the entire trek worth it.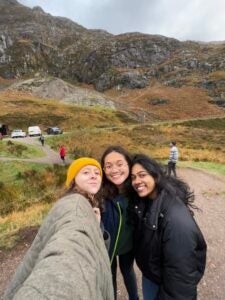 But my favorite adventures are the small moments, like when I realized I could walk to St. James Quarter and my friend's flat without using Google Maps, or when I felt familiar enough with Edinburgh Waverley Railway Station to confidently book a solo trip to Stirling.
My favorite activity while living in Edinburgh is exploring different coffee shops with my friend Andrea and making a tiered list based on the coffee and vibes, although I keep coming back to the Caffè Nero next to Blackwell's Bookshop. I go there often enough that the baristas know my order—a chai latte with oat milk—and we always have a nice chat at the register.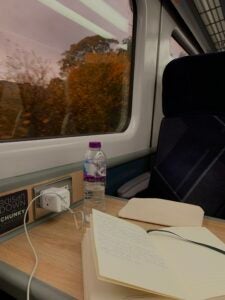 Adventures are what make a place so far away feel like home. Even when nothing goes to plan, these moments make the most entertaining stories after.
There are many adventures worth writing about; I've written in my journal about everything I mentioned here and more. In fact, I still have over a month left in this beautiful city and am already running out of space! But I think that's a great problem to have.
This post was contributed by Gabby Galicinao, a Global Ambassador for Fall 2022. Gabby is a junior studying computer science with plans to add a second major in mathematics. Read her first blog post here.