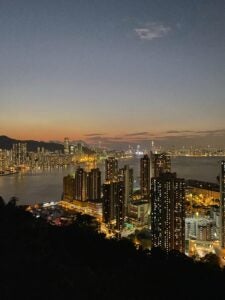 On the first day of this year, I hopped on a plane (actually, three planes) to come to Hong Kong. My fervent packing the night before had been interrupted by New York's, then New Orleans' ball drop to ring in 2023. The motivation, enthusiasm for personal growth, and anticipation that people have every New Year's Eve are the same that I had for my semester abroad. I was nervous to be in a country and community very different from home, of course. But the study-abroad experience was on my list of must-dos before I even came to UT. 
I have always been fascinated with other cultures and the lifestyles of people abroad. And I wanted to challenge myself to adapt to a new environment while having the security and ease of doing it through an exchange program. Somehow, I'm expecting Hong Kong to be the place where I simultaneously build a routine, become a spontaneous person, crush it in my classes, and pick up new hobbies. Unlikely to all happen, but we'll have to do a progress check in a few months.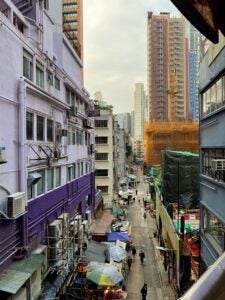 In Hong Kong, while other COVID testing requirements have recently been lifted, such as the green QR code scheme and persistent RAT testing for entry, masking is still mandatory in public, both outdoors and indoors, unless eating or drinking. I am thankful to have arrived in Hong Kong after the more strenuous requirements were lifted because I was able to connect with other exchange students and explore the city immediately after arriving. (Ironically, I did get COVID only a week after landing, so perhaps the stricter requirements would have been in my favor.) 
And what a week it has been! Meeting my roommate from UT (who I did not know before this experience) and conversing with students from Finland and South Korea, and many Italians, I have gotten to know such amazing people. Moreover, Hong Kong's beauty thus far has been unparalleled. Juxtaposed with the high-rise buildings crowded in the commercial district, the mountains and sea frame Hong Kong from every angle. Set on a mountain, the campus of the Chinese University of Hong Kong is a great place to see this view from. It also makes moving from building to building very difficult, which is why the campus buses are very helpful. It takes just as much time to use the bus as it would to walk, but at least you don't break a sweat!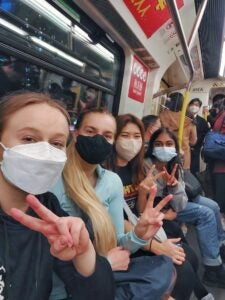 My goal beyond just exploring Hong Kong's temples, hikes, and food is to connect to the local students I will meet in my classes, but I'll admit I am a little worried about how this will pan out. Sitting on the campus bus going from canteens to classes, it has crossed my mind whether people aren't sitting next to me or making conversation because I look like a foreigner. Though I understand that is a distinctly American thing to do with strangers, I think it will take some time to adjust. The people here are quiet and keep to themselves. I am accustomed to American politeness and chatting with strangers who catch my eye. The people here speak less English and Mandarin (which I have been learning for 2 years now) than I anticipated, which will also prove to be an obstacle in making local friends. But I look forward to the challenge of building new relationships and hiking new mountains here in Hong Kong.  
This post was contributed by Bhaavya Rastogi, a Global Ambassador for Spring 2023. Bhaavya is a junior finance and Asian studies major studying abroad in Hong Kong.