Save for the week I spent in Vancouver, the day I spent on the Canadian side of Niagara Falls, and the 20,000 steps I took in Victoria's Butchart Gardens (all of which were with my parents and under the age of 15), I have never been abroad. I have never been to a place where I wasn't understood, linguistically or culturally, and I have never been totally responsible for myself. I still sign off on the HIPAA forms for Mom to have access to my medical records, and Dad still drives me from Austin to Houston when I go home.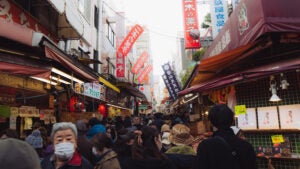 The call to action. Thus, I'm sure you can imagine my anxiety the night before my 12-hour flight to Japan for a week's pit stop en route to Singapore.
The rejection of the call to action. I had read in "A Tale for the Time Being" by Ruth Ozeki that Namazu, the giant catfish under the earth, was the cause of Japan's frequent earthquakes. I'd like to make my pitch to Japanese mythology that he was actually in my stomach. But of course, I think 12 hours was more than old Namazu could handle, and my anxiety dissipated as soon as I landed at Haneda Airport.
The crossing of the threshold. I will spare you from every little adventure that transpired, but I must highlight a few: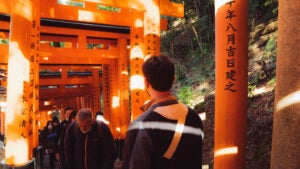 Hatsumōde, the visiting of shrines or temples at the start of the New Year 
New Year's in Japan is undoubtedly the most important holiday of the year, and I was lucky enough to visit multiple shrines and temples (yes, they are different) during my stay. Most notably, my boyfriend and I visited Meiji Jingu at the heart of Tokyo on New Year's Eve and Nikkō Tōshō-gū on New Year's Day. We even made the "pilgrimage" up Inariyama, through the famous thicket of bright-red torii. 
The most common question: "How was the food?" 
I had the best meal of my entire life at Katsukura Kyoto after the scenic bullet train ride, which passed right by Mt. Fuji. Through an unseemly alley in the middle of a shopping mall, people lined up to eat tonkatsu, fried pork cutlets with the most delicate crunch of panko and the melting softness of luxuriously raised pork. We even got to grind our own sesame with a mortar and pestle to prepare the sauce for our cutlets. It was a genius form of entertainment. This day will forever be etched into my being.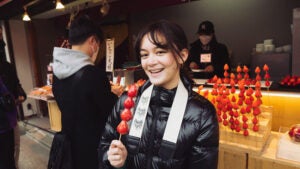 Japanese politeness 
Tokyo, the largest city in the world, with every nook and cranny dwarfing whatever awe I've felt in NYC, was quiet as a mouse. Even the insides of elevators seemed stuck in a gravitational vacuum. While this subtlety of presence could have been lonely and isolating, the people all throughout Japan (we went from Tokyo to Kyoto to Hiroshima to Fukuoka) made us feel welcomed and safe (the quietness was more of a respect for the individual's thoughts).
At restaurants and shops, we mostly conversed using gestures and pictures, ending with a bow that transcended languages. I had an encounter with an elderly woman on the escalator who attempted to help me with my luggage. This woman spoke no English, and I spoke no Japanese, but words are not the only things that comprise language. Of course, she could have been telling me I wasn't very bright or strong for not knowing how to roll my luggage onto the elevator (I looked pretty silly and struggled with this quite a bit), but she would have been right, and I wouldn't have known. 
Hiroshima
I urge everyone visiting Japan to make way for the stories of the past, present and future of this impossibly resilient city, whose inhabitants are defined on the world stage as victims, but are so much more. The most poignant moment of it all was walking through the still-standing Honkawa Elementary School, a school remembered by just one student after the bombings of World War II. Kiyoko Imori, who was changing her shoes in the basement, walked upstairs after the power had gone out at 8:15 a.m. only to find every window blown out and everybody else gone. People like Kiyoko lived on to tell their experiences of surviving the nuclear fallout, and the city of Hiroshima moved on to rebuild its character. Two icons of this character are Hiroshima-style okonomiyaki, the "Japanese pancake," and the Toyo Carp, their baseball team! 
Trials and tribulations. My emotions have been strapped on an endless loop around Space Mountain in these six days that I have been in Singapore. How do I use my new SIM card with my eSIM? How do I get around NUS using the NextBus app? How do I receive mail? I sure hope my roommates like me. Wait, how do I approach strangers? I haven't had to make new friends in years! Maybe this is what my freshman year during COVID-19 took from me — embarrassment, timidity, but also adventure.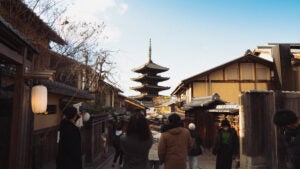 Revelation. Despite my emotional rollercoaster, I immediately felt at ease in the warmth and mosaic of various cultures upon landing at Changi Airport —Singapore is reminiscent of my own multicultural family. For me, being of Southeast Asian descent but never having been to my mother's country, this trek was the closest to a homecoming I have ever experienced, though I am not Malay, Chinese or Indian. I have learned much about taking care of myself in the past two weeks, and I feel ready to finally become enveloped by this nation. 
 This post was contributed by Cassidy Edwards, a Global Ambassador for Spring 2023. Cassidy is a third-year biochemistry major studying in Singapore.