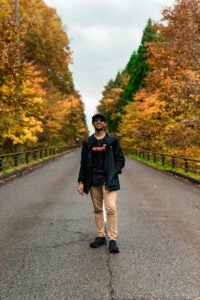 As my first semester studying abroad in Japan concludes, I wanted to take this chance to reflect on my experiences and the personal learning this country has permitted me to do. Years ago, I chose to study abroad halfway across the world, seeking a place that would contrast as much as possible from my native Houston and allow me to expand beyond my comfort zone. Of the options available, none seemed to fit this bill as well as Tokyo did. 
While I expected to be pushed and to experience new things, I still remember my first two days in Tokyo for how disconcerting and overwhelming they were. The culture shock I experienced getting off the train at Shinjuku Station and seeing the hustle and bustle of the busiest station in the world — then going to a local goods store (Don Quijote) and being hit with a sensory overload from all the sounds, sights, smells, and lack of English — was something unforgettable, if a bit nerve-wracking!
What is perhaps more remarkable to me, however, is how used I am now to those parts of being here. I remain amazed by this city, but I get to enjoy it now without it feeling foreign; these once-overwhelming aspects are merely a part of daily life. The fact that I've been able to get accustomed to daily life in Tokyo proved to me that I could live somewhere else, even in a place with significant societal differences from Houston and Austin.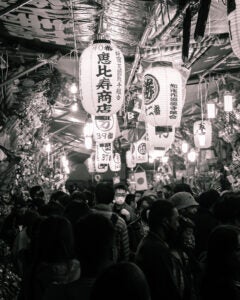 Japan has been a great place for me to nurture plenty of hobbies! In particular, the public transportation system and the city layout lend themselves to its people doing a lot of walking. As such, I find myself wandering new neighborhoods almost every week, checking out stores and coffee shops all on foot. It's been good for my mental and physical health while allowing me to see new corners of this city at every turn.
For instance, I went to this neighborhood called Ichigaya once — not a particularly significant neighborhood, just a quaint corner of Tokyo. I simply took in the sights and the tranquility of the place. I spoke to locals, went to a coffee shop, and studied for a bit as the sun went down. It was a surprising but fulfilling experience and something I'd never done before.    
In the same vein, I've gotten to do a lot of hiking here. I've gotten to make plenty of friends who love hiking and exploring nature, allowing me to travel across the country with them. Be it trails at the foothills of Mount Fuji, the cliffsides of the Sanriku Coast of Tōhoku, or the waterfalls and lakes of Nagano Prefecture, I've gotten to see so much natural beauty. It was my first time seeing autumn colors in the trees. The vibrant range of reds, oranges, and yellows in the leaves was so captivating to look at that I truly understood why there existed a word to describe it: momiji.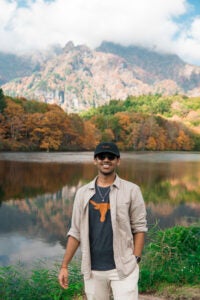 All this walking has allowed me to work on another hobby of mine: photography. I've felt my skill as a photographer significantly improve in my time here in terms of the framing and purposefulness of the photos I take and my ability to edit them in a way that feels more meaningful and less random. It's a hobby I haven't been able to pursue at home, barring the occasional vacation. Since I'm carrying my DSLR with me everywhere I go in Japan, there's always an opportunity to practice.   
I think that's the best word to describe my time thus far in Japan: opportunity. That's the reason it's the title of this blog post. Studying abroad in Japan is an opportunity to experience a different culture, such as at the festivals, shrines, and temples that I have gotten to visit. It's an opportunity to engage in local activities and explore new places every day. It's an opportunity to pursue my passions and improve my skills in my hobbies. It's an opportunity to immerse myself in a foreign language and learn through real interactions with people I would never have met or spoken to otherwise. But most importantly, it's given me an opportunity to learn about myself and expand my worldview.   
This post was contributed by Sourav Banerjee, a Global Ambassador for Spring 2023. Sourav is a junior computer science major studying in Tokyo, Japan.