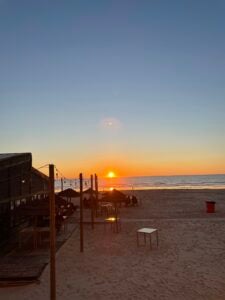 It has been 16 days. These 16 days abroad have been the most eye-opening days of my life. I knew studying abroad would be an experience, but I did not expect this. Before going abroad, you are told, "These will be the best months of your life," or "You are going to grow so much." But hearing statements like these versus experiencing them are two very different things.
When my plane took off from Austin, I had a moment of doubt. All the negative thoughts that I'd pushed out of my brain fled back in. I was thinking of my family, friends, my amazing life in Austin, and the lack of Spanish I knew. Worrying about this decision is how I spent the first few hours of my flight. Although these feelings were very valid, they have not crossed my mind since.
After I unpacked my things and met my flatmates, we set out in the city to grab a few things. Immediately, I knew that my flatmates were going to be my people. The excitement we were experiencing for the next few months is what bonded us. My nerves eased up shortly after meeting them.
From the vast number of bougie restaurants, cute shops, and bars to the sweet locals that helped us navigate our way, I fell in love as I walked around the city. Madrid, you are filled with life.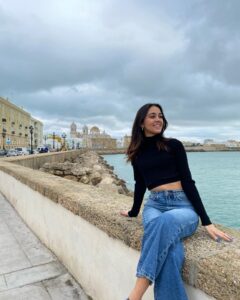 The next day I began classes at IE University. The state-of-the-art tower I have the honor to attend has an elevated tech system with face-scanning entrances and a high-tech elevator system that allows students to travel around the 35-story tower. Now that I have the sophisticated technology figured out, I live for the lifestyle.
My classes are taught by professors from all over the world, and I am sitting amongst the brightest international students. I have learned so much from my peers. They all come from different countries with diverse cultures, but we all share a great enthusiasm to experience this new city.
The people I have met at events for international students or at my university are also what have made my experience so fascinating. I am constantly on the go, meeting people from all over the world, trying tapas, or visiting the many parks Madrid has to offer. Surrounded by like-minded individuals, I have found my travel companions and people who I know will shape my time here.
Adjusting to this fascinating city, I will not lie, has been a bit challenging. I have missed a few classes trying to understand the metro and have struggled to get into my building more times than I would like to admit. However, now that I have established my ground, I can take on anything.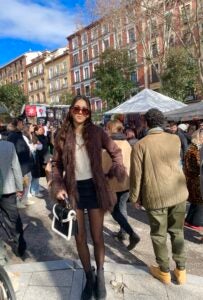 This past weekend, my flatmates and I took an eight-hour bus ride down to Cádiz, Spain. Cádiz is the most charming beach town with genuinely the purest people I have ever met. We stayed with my flatmate's grandma and met her whole family during the weekend. From fully immersing myself in the culture and trying new foods to watching the local flamenco shows, this is exactly what I came here to do.
I am currently typing this blog from a coffee shop on my street that I have been meaning to try. I am looking out the window with the widest grin on my face. I look goofy, but anyone who knows me can attest to the fact that I live to travel. Meeting new people and exploring different cultures is my passion. This is the exact place I am meant to be right now, and I am so blessed to have this opportunity. It has only been 16 days, but I have nothing but the best things to say about studying abroad. If you have the opportunity, take it.
This post was contributed by Anura Grewal, a Global Ambassador for Spring 2023. Anura is a junior health promotion and behavioral sciences studies major studying abroad in Madrid, Spain.