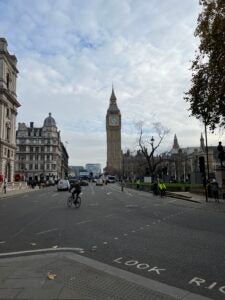 With just a week left in my semester exchange program at University College London, I am already starting to reminisce about my time here in the United Kingdom.
In London, I've studied under some of Europe's most esteemed academics and lecturers, visited some of the greatest art and history museums in the world and even turned 21 surrounded by a new group of friends.
My exchange has taught me to take things slowly and enjoy everything I do to the fullest extent possible, a lesson I anticipate will continue to benefit me in the future.
After months of living here, I finally took the opportunity last week to see some famous cultural landmarks like Big Ben, Buckingham Palace and the Palace of Westminster, where the U.K. Parliament resides.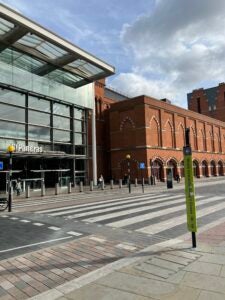 Even though it was the middle of the workweek, the crowds to see the changing of the Buckingham Palace guards was astonishing. The ceremony itself was impressive, but it helped that I had a friend with me who turned out to be an expert in guard regalia and knew which regiment was charged with protecting the palace for the day.
Back home, I would have rarely considered going out with my friends on a Wednesday evening, but in London, midweek outings seem to be totally normal.
This past Wednesday, I joined a group of friends at an ice skating event across town, in an area called Battersea Power Station. The rink bordered the river Thames and was decorated to a tee for the holidays. It was a little crowded for my taste, but between the free hot chocolate and my friends' excitement, I had an amazing time and was relieved for the small break before the pressure of the end of the semester.
While there is much to do in a place like London, I have found that most of my enjoyment came from the company I was around rather than the location I was in. I was extremely lucky to make friends with some really great people from around the world — and it was these friends who made my outings and trips around the city so much more enjoyable.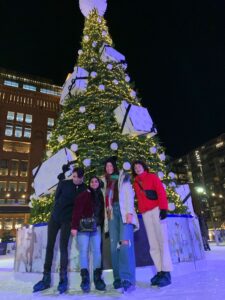 London's reputation as a global cultural hub speaks for itself; however, interacting daily with people from cultures different than those typically found in the U.S. was where I feel I gained the most cultural exposure.
As the date of my flight home quickly approaches, it is with a conflicted heart that I go through my last days here. Although I dearly miss my home and family, the friendships I've made, the academic experiences I've participated in and the sense of community I've developed weigh on me as I make my goodbyes.
London has allowed me to grow so much, and I can't wait to return to the Forty Acres and my normal routine to see how the experiences and insights I've gained through studying abroad will fit into my career and life back in Texas.
This post was contributed by Tariq Rajei, a Global Ambassador for Fall 2022. Tariq is a third-year international relations and global studies major with a minor in international business, studying abroad in London, England. Read his first blog post here.