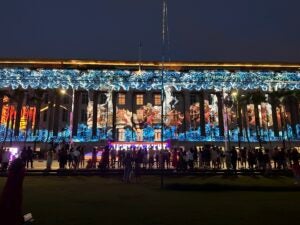 As someone who is a special brand of an extrovert-presenting introvert, I had anxiety just thinking about how long I would be away from my family and friends with no guarantee of a social life while I was abroad.
My dad was able to travel with me for the first week and help me move in, which I am so grateful for. Having someone to lean on while I was moving and adjusting really helped build my confidence, especially as we got to explore the city and make mistakes together. If you are lucky enough to travel with someone, I truly encourage it. There really isn't anything wrong with wanting a smoother transition to an already stressful process. It won't detract from practicing independence because, for months after they leave, it will be just you!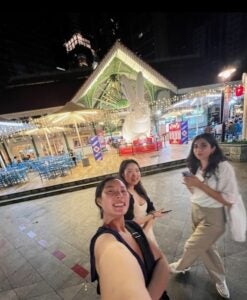 I feel like many of us missed out on developing real social skills due to the coronavirus pandemic that took away from our freshman year of college. Once we came back to school, many people, like me, got comfortable in the existing friend groups that followed me from high school to Austin.
In order to prepare myself, I took the time to process the fact that I would need to not just push, but break out of my comfort zone to make friends while abroad. I highly recommend talking about your fears with your loved ones before traveling because even talking about silly little hypothetical scenarios can make all the difference.
I know that part of the experience of living abroad is "learning to be by yourself," but I don't think it means you need to give up on a healthy social support system by accepting isolation. People will tell you that in order to make friends while abroad, you need to be the one to make the first move, which can be extremely daunting for introverts like me. While that's true, I would like to offer some more reassuring advice after my own experience. Yes, you may have to step out of your comfort zone to introduce yourself, but you don't have to introduce yourself to every local student you meet; just start by introducing yourself to a couple of your neighbors. I promise it's not weird. If you're nervous, have your friends hype you up for some mental prep beforehand like I did. Most locals are curious enough about your exchange status, so all they need is for you to express your interest and they will be more than happy to show you around.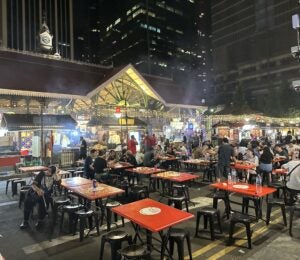 I do feel that local students don't have the same incentive as exchange students to reach out, but that can also be a good thing, especially at The National University of Singapore (NUS)! NUS has a large exchange student population, and it is guaranteed that they will be just as eager as you to make friends. It might even work out better considering Singapore is a great location for traveling to other parts of Southeast Asia, so you may find your travel group among the crowd! I've truly made some amazing friends, the kinds you have spontaneous outings with, and get a little sugar-crazy after the great meals in Singapore. I am so looking forward to traveling with them!
This post was contributed by Emaan Khan, a Global Ambassador for Spring 2023. Emaan is a junior international relations and global studies and biology major studying in Singapore.