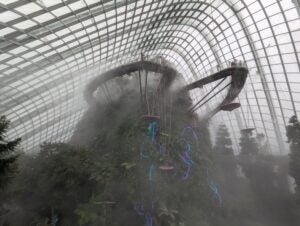 As a Chinese international student at UT Austin, I am familiar with how studying abroad feels. I can't recall exactly how I felt when I arrived at the airport wearing a long-sleeved shirt and pushing two large suitcases out of Changi Airport at 3 p.m. That's because the heat and humidity were really getting on my nerves.
In a predominantly Chinese country like Singapore, my innate ability to speak Chinese seemed to put me at ease. But while communicating in English with the Chinese cab driver and then in Chinese with an Indian receptionist upon arrival at the dorm, I realized that Singapore was far more complicated than I had imagined.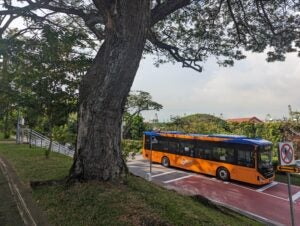 The first thing that confused me was the language. Before coming to Singapore, I knew the country had historically been an English-speaking country. I also knew quite a lot of people speak both Chinese and English, so I wasn't really worried about communicating. However, not only did I need to carefully distinguish the Chinese pronunciation, but the English pronunciation in Singapore was also confusing because I am accustomed to how native Chinese and Americans speak.
The pronunciation rules of "Singlish" made me wonder if it was a brand-new language — but apparently, Singlish is a cultural fusion of Malay, English, and local Chinese dialects. As a bilingual student, I was surprised that I didn't know which language was appropriate to communicate. So, for the first few days after I arrived, I waited for the other person to speak first. Soon after, I got used to the language and started to use both English and Chinese outside the classroom.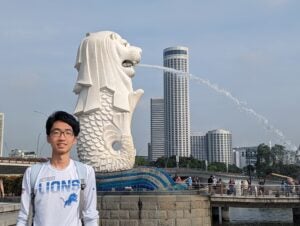 While at the National University of Singapore (NUS), I was amazed by the garden-like campus and various types of food. I usually go to a food court named "The Deck" after class. It serves as an open-air eating place that makes and sells a variety of delicious food from around the world.
As I'm sitting on the periphery, I have to keep an eye on my food so that the birds don't take it away. (I saw that happen to a poor lady once.) Thinking about my everyday schedule in Singapore reminded me that I never had to worry too much about being late to class in Austin because the buildings were close to my dormitory. But here, I have to leave half an hour early and pray the bus isn't too crowded (I was late once after failing to get on the bus because it was overcrowded).
I also keep an eye on COVID-19 precautions on and off campus. I'm no longer required to wear a mask at all times, except for on buses and in some shops (mostly depending on the store owner's personal requirements). Everywhere else, masks are no longer mandatory. Constantly wearing a mask in Singapore, I imagine, is not very practical because of the weather. Thankfully, the open spaces often have huge and quiet fans. As a guy who used to enjoy Michigan winters immensely, I still need to get used to the weather near the equator.
Before going to Singapore, I was worried that the extreme similarities between Singapore and China would help me adapt so quickly that I wouldn't care to properly explore the uniqueness of Singapore. In hindsight, I was mistaken. The country is small, and there are still many places worth exploring. So far, besides the NUS campus, I have visited the area around the famous Merlion. To quote a slogan I saw in the subway: "Singapore isn't too small. You're just too boring!"
This post was contributed by Ruixun Zhang, a Global Ambassador for Spring 2023. Ruixun is a sophomore international relations and global studies and economics major studying in Singapore.