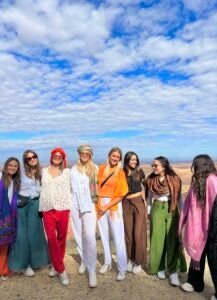 As I reflect on the past two and a half months that I've been in Europe, three words continue to pass through my mind: Life is beautiful. The life I've curated here is beyond what I ever imagined for myself.
This may seem cheesy to admit, but after spending time abroad, I've realized how much love there is in the world. These past few months have had a huge impact on my mindset. Now, I tend to look at everything with a positive attitude.
When I walk around the city of Madrid, I see couples embracing each other and showing their affection, and I realize this is normal. The culture here is so beautiful because people are not afraid to show their love.
While sitting in my classes at Instituto de Empresa University, I recognize that there are international students from many different backgrounds, and we all enjoy each other's diverse personalities. Most students have been together for the past three years, and the love they have for one another continues to amaze me. At first, I was intimidated to take classes at a "fancy" private school with other international students, but now I am so grateful that those initial thoughts were put to rest after meeting such welcoming individuals.
One of the most eye-opening trips I have been on while studying abroad was to Marrakech, Morocco. Marrakech is filled with cheek-to-cheek smiles and the warmest souls I've ever met. I was only there for four days, but I was touched by the encounters I had with the sweetest people. From our tour guide to the people we interacted with on the streets, they all offered nothing but the most genuine greetings when we met. We shared a meal with one of the city's Berber families, an ethnic group indigenous to the region of North Africa. Over dinner, I witnessed how much love was present in their home.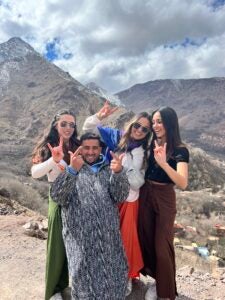 I must admit, I was fearful before boarding my flight to Morocco because I was traveling with eight girls and only knew three of them. This is another testament to the many beautiful people there are in this world because the copious laughs and stories we told contributed to an unforgettable trip. I have formed lifelong friends with girls that I originally had no intention of meeting.
Furthermore, there are so many negative associations with Morocco that lead people to have an unfortunate view of the country. However, after witnessing the charming people and exploring the lovely city of Marrakech firsthand, I can attest to the fact that the dangerous place people make Morocco out to be is false.
Continuing about life's beauty: I must mention my weekend in the famous Canary Islands. This place was astonishing. The island of Tenerife is small, but everywhere you look the ocean, volcanoes and mountains are within view.
I was amazed by the natural beauty that encompassed the island, along with the people we encountered. We met numerous people from different countries who migrated to the island for better opportunities. Hearing their stories and seeing how happy they were to be living in Tenerife touched my heart. It is experiences like this that have changed my mindset on life.
The time I've spent here has been astonishing, to say the least. We are on a beautiful planet that is surrounded by so much love, including the many people that we cherish. Traveling and meeting people from different cultures has given me a new perspective on life. I will admit that I live in a "bubble" back home, but reflecting on my experiences abroad, I know my new mindset will carry over into my lifestyle in Austin.
This post was contributed by Anura Grewal, a Global Ambassador for Spring 2023. Anura is a junior health promotion and behavioral sciences studies major studying abroad in Madrid, Spain. Read her first blog post here.