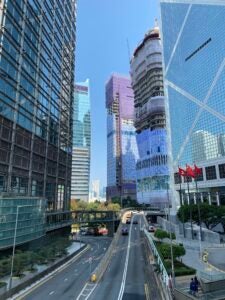 Part of me has always known that I wanted a different study abroad experience than most people. I wanted to integrate completely into a society that was so different from my life back home in Texas.
That's why I originally wanted to go to mainland China: so I could practice my Mandarin skills and physically see the society and culture I had spent years learning about. But most of the people I have encountered here, as well as my other friends also studying abroad in Europe, have a contrasting perspective.
Most of my friends are only looking for a once-in-a-lifetime, life-changing, adventurous four months abroad. They want to explore a country and region they have no plans of returning to. This also appeals to me, but if this perspective were my own, I'm not sure I would have chosen Hong Kong.
Hong Kong is a city I could potentially move to and work in because of its reputation as an international financial hub, which is the perfect combination of my two degrees! In my opinion, it is also similar to American urban life and downtown Houston.
Balancing the influence of others and my own wavering grit in my original intentions has been difficult and leaves me unsatisfied. I find myself recognizing the ways in which Hong Kong diverges from my imagined semester in mainland China. They say "comparison is the thief of joy" for a reason. On the other hand, I wonder if these thoughts are the result of the way my semester started.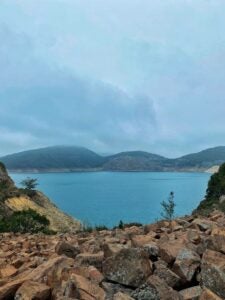 I caught COVID-19 the second week I was here in Hong Kong, and I was pretty sick. Although I tested negative five short days later, I still feel the aftereffects. Chinese University of Hong Kong (CUHK) gives us an entire week off to celebrate Lunar New Year, and I wasn't able to travel to a neighboring country as I'd initially planned because of my condition. I have had a lingering cough and sore throat ever since, and my energy levels are noticeably lower than before. (You can hear my hiking plans catching on fire in the background.)
I was also notified of a death in my family just as I was recovering, which was difficult to come to terms with while being physically isolated from friends and family who have known me for years. I have been surrounded by kind platitudes offered by sympathetic acquaintances here in Hong Kong.
I have also struggled slightly to communicate clearly with people from other countries. I thought it would only have been difficult to communicate with Hong Kong locals, which I was prepared for and excited about, given my degree and personal interests.
I am, of course, lucky to have a strong support system back home as well as understanding friends here in Hong Kong. However, the midway point to Spring 2023 is fast approaching, and only now am I getting into the groove of the adventure, both physically and mentally.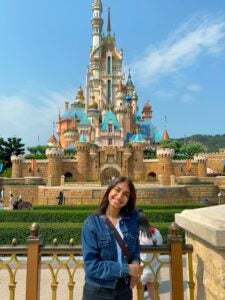 Despite all this, I have had some great times already! After walking three hours to Sai Kung Beach and Reservoirs, I was rewarded with a view equivalent to Canada's famous Lake Louise. I also turned 21 in February, with my friends and some expensive pizza for company. Visiting Disneyland was worth the two-hour early morning trip on the Mass Transit Railway.
My friends and I are heading to the Philippines next week during the spring break counterpart here called "Reading Week." There is still so much to see and do in Hong Kong, such as biking along the waterfront, day-tripping to Cheng Chau Island and Macau, going to amusement parks such as Ocean Park and Water World, and betting on horses at local race courses. My semester thus far has been fulfilling and fun, just not in the ways I had expected. I look forward to more escapades in the coming months, pre-planned or otherwise!
This post was contributed by Bhaavya Rastogi, a Global Ambassador for Spring 2023. Bhaavya is a junior finance and Asian studies major studying abroad in Hong Kong. Read her first blog post here.