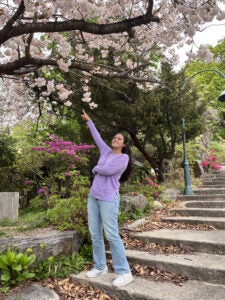 As the lovely cherry blossoms have gently taken flight with the breeze, I face the harsh reality that my time in South Korea is, unfortunately, not going to last forever.
I've made amazing and unforgettable friends who have made me feel welcome and safe. I think about the ways my life will shift when I go back to Austin, and I have mixed feelings about it. I've seen and felt myself grow in many ways such as my Korean language proficiency, balancing my free time and studying.
Also, my most-prized personal achievement, which is the confidence I have in myself, has significantly increased while being here. It feels weird to talk about my confidence in a blog like this, but let me elaborate: I have come to terms with what makes me special and what makes me important, as I experience life on the other side of the world.
If I'm being transparent, I stick out like a sore thumb here in Korea. I felt exposed and out of place during the first few weeks. I noticed myself trying to ignore stares and the number of times 외국인 (or wegugin, which means "foreigner" or "alien") was said around me and my friends. It's a normal response to be curious about newcomers in your home, so I didn't take offense to those reactions.
Living in an area where no one looks like you can open your eyes to what makes you special. I have a different lifestyle, and that's special. I have beautiful tan skin, and that's special. I always remind myself that I hold different qualities. Just because my unique qualities are not common here doesn't mean they aren't worthy of value.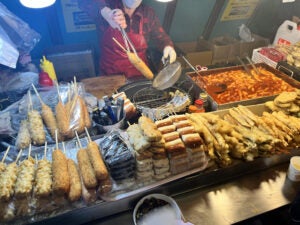 In Korea, I've also become more aware of my own culture and values by learning about other cultures. My global mindset has grown, and I've literally had the chance to meet people from all over the world. I'm certain this experience of studying abroad and living internationally is so important and life-changing for all individuals.
My differences are what make me special. I often reflect on what makes me "me," and I admire myself for it every day. My friendly characteristics have allowed me to talk to so many new people from different countries while here in Korea. I also feel like I've become more comfortable with a "go-with-the-flow" attitude while being abroad. In a new country where culture and customs are different from my own, staying adaptable makes everything most enjoyable!
While in Seoul, I've also noticed the huge use of cellphones — but I find myself enjoying the view outside the bus in the afternoon and looking at the beauty in nature as I walk through the forest to get to class. It's little things like this that have allowed me to enjoy my life in Seoul, where I have been able to learn more about myself and what I want my future to look like.
I've tried so many new activities like taekwondo and new foods. I've deepened my love for kimchi jjigae or kimchi stew. (By the way, it gets even better when you add ramen to it!) And I've been practicing speaking Korean. Ordering food and recharging my transportation card alone is such an accomplishment, and I'm proud of myself for it. So, I thank Seoul for encouraging me to step out of my comfort zone and giving me a safe space to grow as a student and a human being.
While in Korea, I have fallen in love with the aesthetic here. Cafés are adorable, photo booths are everywhere and my Korean language skills are getting better every day. Basically, life is good! Midterms ended this week, and I can finally take a deep breath. This morning I ventured out to a new district and tried some breakfast. I went to a café by myself for the first time and realized that you can really learn a lot about yourself when you're adventuring alone.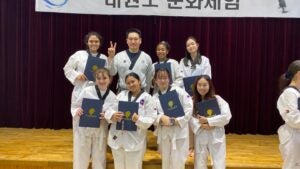 The sun has also begun to stick around more as summer inches closer. I've been enjoying my time in Seoul these days, so I've been really happy. I have visited the National Museum of Korea and the famous Line Friends store, tried out taekwondo and eaten some delicious food. Although Seoul has only fueled my matcha and coffee addictions, I hold so much gratitude for its giving me a home outside of the United States.
I hope to take my experiences and share how valuable Korea is to the outside world. My advice for today is to take a step out of the norm and see what makes you special. I will see you next semester, Longhorns. Until then, Hook 'em!
This post was contributed by Lilliana Rivera, a Global Ambassador for Spring 2023. Lilliana is a sophomore Asian cultures and languages studies major studying abroad in Seoul, Korea. Read her first blog post here.