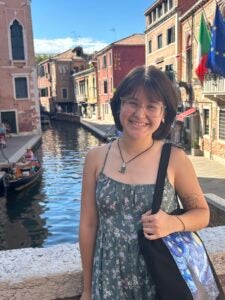 During my last night in Siena, I sat at Piazza di Campo and watched people pass by for one last time. Even at 11 p.m., it was full of life, with various couples sitting throughout the space, toddlers giggling as they ran from their parents and groups of friends listening to music.
I reflected on how much had changed in such a short amount of time. I thought of how the medieval streets of Siena had become familiar in contrast to my first few days, which felt like a winding maze. Although it's only for a short time, this six-week experience in Italy will forever remain a fundamental memory for me. 
The entire summer, my classmates and I watched from afar as the city of Siena slowly prepared for the Palio di Siena, a very important centuries-old horse race. It is a fierce competition between the "Contradas," which are the areas the city is divided into. Since our arrival on June 5, loud drums could be heard from outside our apartment windows. These were individuals practicing for the parade that takes place before the race.
The piazza was transformed right in front of our eyes into a venue within the span of a week. The Sienese filled the trail with dirt and large barriers were put up around the center. Contrada parties and feasts occurred everywhere on the street as the people of Siena buzzed with excitement. The week of the Palio, a "Tratta" was held, when each horse was randomly assigned to a Contrada. After lunch on this day, I rushed over to the piazza to witness the very serious and tense event.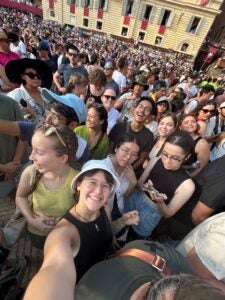 As the first horse was about to be chosen, a hush came over the entire piazza, but as soon as horse number one was announced, a murmur of excitement was heard throughout the space. My classmates, who are also students at the University of Texas at Austin, all turned to each other with wide-eyed glances because we had no idea what this reaction meant.
Our questions were soon answered when the horse was matched to the Selva Contrada, which prompted loud cheers from the corner of the piazza. The people cheering were wearing white and orange and rushed to their horse before proudly singing their Contrada's hymns. Then, the people of Selva marched with the horse to their stables. Other reactions were not as lively, leading us to conclude that Selva got the best horse.
On the day of the race, we got to the piazza three hours ahead of time to ensure that we would get a good spot. The sky was mostly clear, but everyone was so sweaty and hot that even the lightest cloud cover from the sun led to loud cheers from the crowd. It was amusing and oddly nice to feel connected to so many strangers because we were all affected by the sun in the same way. When the race was about to begin, a "shhh" spread throughout the entire piazza until I could hear my own breath. Everyone waited in anticipation as the lineup of horses was randomly assigned.
Although the race took a while to begin, it was over in 90 seconds. From where I was standing, I witnessed two jockeys falling off their horses, which is common since they ride without a saddle. Before I knew it, Selva was celebrating their victory, and the race was over. Amusingly, Selva was still celebrating their victory when I was getting ready to depart Siena a week later.
The entire summer felt like a buildup to those 90 seconds. When it was over, I felt strangely empty because I knew it meant my time in Siena was almost over. It felt strange that such a monumental event was over in less than two minutes. However, I know that if I didn't have the privilege of witnessing the city's transformation in preparation for the Palio, I would not have been able to appreciate those 90 seconds to the extent that I did.
My understanding of the rich history behind the race and the rivalries between Contradas made the event so exciting. To me, the Palio made my study abroad experience so beautiful. I was able to step into a culture so different from my own. Although I'll never feel the same passion the Sienese people did, I cannot deny that their energy was infectious.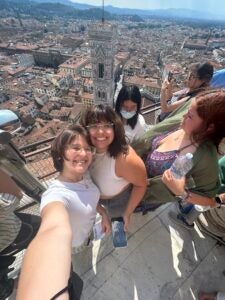 Looking back on my experience, I'm in awe of how much more confident I am now, compared to my first week in Italy. The first few trips to the grocery stores were difficult, as I struggled to translate product names and would look at the cashiers blankly when they asked me in Italian whether I wanted a bag. But by the end of my program, I could comfortably navigate the grocery store and order a pizza slice in Italian. I've found that small things like this have contributed the most to my personal growth.
I am saddened that my time in Italy is over, but I am excited to go home, back to free water, ice and air conditioning. While I will miss the cappuccinos in Italy that cost 1.50 euro, I already plan to get an iced vanilla latte as soon as I am back in the U.S. When I fly back to the U.S., I know my heart will be a jumbled mess of contradicting emotions.
When the pandemic began during my freshman year of college, I had given up hope of studying abroad. Now that my experience is over, I am so grateful I was able to end my college career by studying art and art history in Italy. I know I will always carry a piece of Siena and all my new friends in my heart.
This post was contributed by Dina Orozco, a Global Ambassador for Summer 2023. Dina is a senior chemistry studies major studying abroad in Tuscany, Italy.