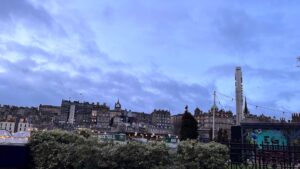 As you prepare to embark on your study abroad journey, your mind will be swarmed with mixed emotions. In certain moments, you will experience insurmountable excitement as you visualize yourself studying and living in the magical country you've chosen.
However, this moment can transform into intense feelings of anxiety, which can cause you to question everything from homesickness to getting lost in a country you know nothing about.
I promise you that these feelings have been felt by the thousands of students who have traveled abroad.  
Studying abroad is a special and unique experience that shouldn't be spoiled by fear and anxiety. This post will offer advice for how to deal with common emotions without letting them ruin your time abroad.  
In October 2021, I found out I'd been accepted into an exchange program at the University of Edinburgh. As you can imagine, I was beyond excited to pursue an adventure I had wanted to experience since high school. Preparing for my time abroad was overwhelming and included dozens of modules, orientations and clearances before I could leave the country. (Keep in mind, this occurred during strict COVID-19 regulations. Responses and resources were much more limited back then compared to what they are now.)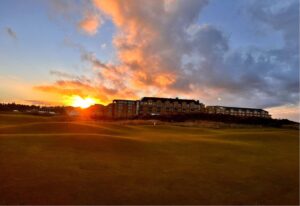 By December 2021, I'd booked a flight and completed all the necessary tasks. This meant that the stress ceased and I was left with incessant time to ponder. I experienced emotions of elation and curiosity, but as my departure date approached, anxiety swiftly seeped into my mind.
I began to panic over everything from my ability to make friends to what I would do if I got lost or sick while abroad. Then, I immediately switched again to optimistic and excited thoughts, visualizing the Scottish Highlands. This rollercoaster of emotions is inevitable, and its mayhem is part of what makes this escapade of studying abroad an unmatched experience.
Finally, my departure date came, and I was on my way to the Boston airport. An immense amount of anxiety and excitement flooded my brain until I eventually boarded my plane. The next five months were the most exciting, beautiful and enlightening months of my life, and it was an experience I will always cherish.  
Although stress is inevitable during this process, it can be minimized with proper planning. Here are some ways to make the mental preparations a little less chaotic: 
Start packing as soon as you find out you've been accepted to your program. This will alleviate the chaos that comes along with last-minute packing.

Write a list of at least five goals you have for your experience.




Write a list of five things you're excited about.

Write down five challenges you anticipate and how you plan on overcoming them. This will help you mentally prepare for unanticipated events.

Start mapping the city where you will be studying and find things that interest you.

 
As you embark on your new adventure, you will encounter many emotions, challenges and achievements. Always remember that Education Abroad has resources to help you before, during and after your trip. Plan ahead, do your research and have the most amazing time! 
Daniell Martinez is an Education Abroad Peer Mentor providing support to students interested in studying abroad. Learn about this position and its services on the Peer Mentor Programs webpage.