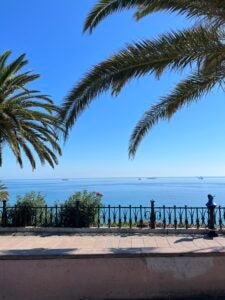 Last Saturday was a series of failures. I am spending the semester in Barcelona and after my first week of classes here, my friend and I tried to buy tickets for a trip to Tarragona for the weekend. The trip was sold out, so we tried to buy tickets for a day trip to Girona on Saturday, or Costa Brava on Sunday. Both were also sold out. So, we decided to go to Girona and Costa Brava on our own.
We explored Barcelona with friends on Friday and then made plans to meet at the train station in the morning to travel to Girona and Costa Brava. The trip would take two train rides, so we met at the first station and sat on a bench waiting.
Eventually the train arrived, but it was so late that our second train had already left. However, the next one was only an hour later. So we got on that first train, had breakfast and took a seat on the platform 15 minutes early, just to be sure there was no chance we would miss the second train.
One minute after the second train was supposed to arrive, we realized that it had pulled onto the other side of the platform and shut its doors already. We followed two locals who had also missed their train. The attendant tried opening the door for us, but to no avail. We had officially missed our north-bound train twice. 
We debated calling it a day and going home; it was now going to be impossible to see both Costa Brava and Girona in one day. But we were already at the station, so we looked up closer options and decided to get on a train to Tarragona. After a short, scenic ride along the coast, we arrived with no plan and spotty reception. We wandered around a bit while we waited for my wonderful Spanish friends to text me some recommendations.
These friends were Spanish students who had come to The University of Texas at Austin on exchange last semester. I knew them thanks to Planet Longhorn, the international and exchange student organization that I am part of. One of them was an officer and two of them were my teammates on our soccer team. With the help of their recommendations, we soon had a whole itinerary complete with maps!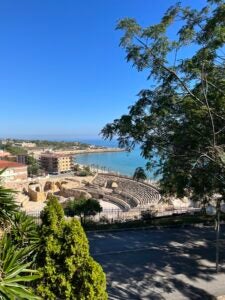 We started in a market full of fish, meat and fruit vendors. Then we walked through a park to an awesome archeological feature, the oldest wall from Roman Hispania (I'm a Latin nerd). From there we wandered through the old parts of town and were surrounded by beautiful buildings along intricate stone streets. We grabbed some Orxata, a typical Spanish drink to cool down, and popped in and out of artisanal shops as we made our way to Balcó del Mediterrani.  
We arrived to a sidewalk featuring statues and ancient sundials that overlooked our final and most anticipated destination: Tarragona Amphitheatre. The Amphitheatre had ruins set against a picturesque Mediterranean Sea. After taking in the view, we grabbed some Turkish food and ate on the beach. We swam in the clear, refreshing water amongst local families, students and silver fish until it was time to catch our train back.
However, our day did not end there. We spent the evening in Barcelona socializing on the beach and making new friends from Spain, India, Luxembourg and Georgia. We had some language lessons in Russian, got more recommendations for trips and restaurants and practiced our Spanish. Though plans A through D had fallen through, we had an amazing day. All of the places we didn't get to go this weekend will still be there next weekend, but who's to say if we would have ever met these friends otherwise.
This post was contributed by Isabella Zeballos, a Global Ambassador for Fall 2023. Isabella is a junior biology studies major studying abroad in Barcelona, Spain.