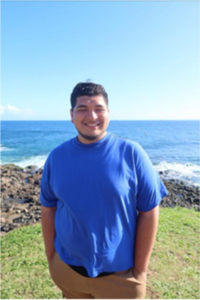 Every year from September 15 to October 15, we celebrate Hispanic heritage and culture in the United States. For this blog post, we are sharing stories from three Hispanic students about their unique study abroad experiences.   
For our first story, we'll be discussing Marco Pevia's experience abroad in Brazil.
Marco is a fourth-year Spanish and linguistics studies major with a Portuguese minor. This summer, he attended the "Language and Culture" program in Salvador, Brazil, hosted by the Portuguese Flagship program in the College of Liberal Arts. Marco was able to experience a whole new culture and had an eye-opening experience discovering what it means to be a Latino in Brazil.  
"As a Mexican, it was nice going to a Latin American country where the main language isn't Spanish," he said. "I got the chance to explore what 'Latinidad' means in the Portuguese context from Brazil."  
The Language and Culture program is a faculty-led program that allows students to go to Brazil and experience the Afro-Brazilian traditions found in the city of Salvador. Marco lived with a host family and attended various festivals that highlighted the local music, food and religion of the region. He also attended classes that helped him improve his Portuguese speaking and writing skills and is now an advanced speaker after his summer in Salvador.
"It was nice to connect with people," he recalled, especially when he found similarities between the cultures. "I think Latinos are very family-oriented, so it was easy to place myself in a similarly family-oriented country."
For more information regarding the Language and Culture in Salvador program, visit the College of Liberal Arts' Portuguese Flagship Program page. 

Our second story highlights our very own Peer Mentor Daniell Martinez and her experience in Scotland and Australia.
Daniell is a fourth-year international relations major who participated in an exchange program in Scotland during the spring of 2022. She also attended a May Term in Australia the following year. Daniell is an El Paso native, so going to Scotland for a semester was a sizable shift from the familiar environment and people she was accustomed to. 
"I felt like I stood out more because there weren't as many Hispanics in this community, compared to El Paso and even Austin," said Daniell. "I didn't let that stop me from having one of the best experiences during my time [abroad, representing] UT Austin," she said.  
Daniell joined Hispanic organizations while in Scotland to find a familiar community within an entirely different country. She felt proud being a Latina during her time in Scotland and Australia.
"I had to remind myself that I am in a different country with a different demographic, but I am still able to represent my culture to new people," she said. "I didn't feel intimidated or ashamed of who I am."
Daniell's experience shows how she was able to adjust to a new culture and still express herself without feeling alone or isolated.
To find out more about exchange and May Term programs, visit the Education Abroad website.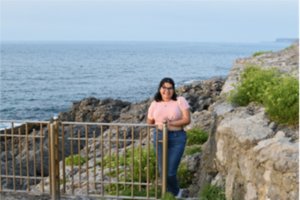 Finally, my name is Karen Vasquez, and I'd like to share my own experience of being a Latina and spending the summer in Santander, Spain.
I won't lie: I was nervous about going to Spain. I had no idea how I'd be treated or what it would be like to live in a country with such complicated ties to Mexico and Latin America. I was surprised by how social and kind the Spanish people were when I arrived. Of course, my accent in Spanish revealed my heritage, but no one judged me or made me feel bad about it.  
I found a new appreciation for my identity as a Mexican-American during my time in Spain. I got to experience a different country while also sharing my culture with my host family and the people I met. I don't know how to describe it, but I also felt proud of my identity.
When I came back to campus, I was confident about my place here at UT Austin. I was no longer shy in my classes; I spoke up and found different ways to join Hispanic-oriented spaces. Overall, living in Spain helped me be more confident in myself both in my personal and academic life.  
I encourage all students, no matter their ethnic background, economic status, etc., to look into studying abroad. There are so many programs that you'll have a good chance of finding one that fits you and your academic needs. Additionally, there are many scholarships and resources to help you during this process. You can schedule an appointment with me or any of our Peer Mentors through the Education Abroad website.  
Once again, happy Hispanic Heritage Month! I hope you feel proud of your identity every month of the year and never feel discouraged if you find yourself the only Latinx in the room. You deserve to be there. 
Karen Vasquez is an Education Abroad Peer Mentor providing support to students interested in studying abroad. Learn about this position and its services on the Peer Mentors Program webpage.