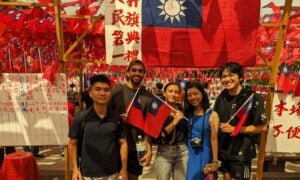 On October 10, Taiwan bursts into vibrant celebrations for "國慶日," or National Day. This day commemorates the Wuchang Uprising of 1911 that heralded the end of China's Qing Dynasty and paved the way for establishing the Republic of China. The celebrations, rich with festivity, beautifully display Taiwan's cultural diversity and national pride, which I had the unique opportunity to experience this year. 
A few days before National Day, a friend extended an invitation to a flag parade she had heard about in Taoyuan. Taoyuan is a city about an hour west of Taipei. Delving deeper, I came to learn of the parade's exciting origin. It was initiated by "張老旺,"or Zhāng lǎo wàng, a nearly 80-year-old patriot who allocates close to 100,000 yuan (or $3,100 USD) annually for Taiwanese flags to be proudly displayed on this special day. He was born to a guerilla commander during the Sino-Burmese war; for him, the Taiwanese flag epitomizes family, homeland and the hope that sustained him during his tumultuous childhood. Intrigued by his story, which intertwines personal narrative and national sentiment, I decided the parade was an opportunity too unique to pass up.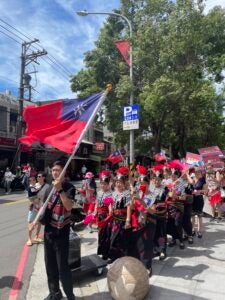 Upon reaching the parade's venue, the sheer scale of the event was astounding. The streets thrummed with energy. Flags billowed from every corner, presenting a picturesque sea of red, white and blue that, in a way, reminded me of the U.S. on the Fourth of July. The pulsating rhythm of traditional drums resounded, setting the tempo for the parade and ensnaring everyone in its infectious spirit. Vendors lined the pathways, enticing me with delicious scallion pancakes and miniature flags. Children painted their faces with national colors and frolicked about while elders passionately chanted patriotic slogans.
Having savored local delicacies from nearby vendors, we made our way toward the main stage, where fervent speeches energized the crowd. As my limited coherence of the Mandarin language limited my understanding of the speeches, I withdrew to my vision. I began scanning the crowd and noticing unique individuals like the women proudly dressed in elegant traditional outfits of Taiwan's indigenous population. As the speeches concluded, a unified voice emerged from the crowd and everyone around me began singing the national anthem, binding them in a moment of national pride.
As we squeezed our way back to the streets, we noticed floods of different types of people parading through the streets. What stood out was the diversity that Taiwan embodies. Amid the energetic crowd, a distinct line of Muslim women adorned with hijabs marched gracefully, each holding the Taiwanese flag. Right beside them, another group of women, evidently representing a church, paraded with similar enthusiasm. A particularly memorable moment was when I caught the gaze of one spirited woman in the crowd and, perhaps after correctly deducing my faith from my appearance, enthusiastically yelled, "Hello Muslim!" while raising her flag high. It was a poignant reminder that Taiwanese identity isn't confined to one's religious beliefs: it's about shared values, history and aspirations, which is a sentiment that resonated with me as a guest amidst the festivities.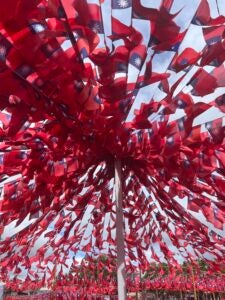 The inclusive patriotism I witnessed in Taiwan brought to mind the Fourth of July celebrations in Texas. On both occasions, streets come alive with national pride. There were vehicles draping with their country's flag and people of various backgrounds taking to the streets with fervent chants. While Taiwan and the U.S. have distinct histories and challenges, their national celebrations echo a common sentiment of unity, pride and appreciation for the diversity that strengthens their nations. It's in these moments that the shared human experience shines through, revealing that, regardless of our backgrounds, humanity is bound by more similarities than differences and celebrations like these serve as a poignant reminder of that universal truth. 
This post was contributed by Arsalaan Asad, a Global Ambassador for Fall 2023. Arsalaan is a junior biochemistry and English studies major studying abroad in Taipei, Taiwan.