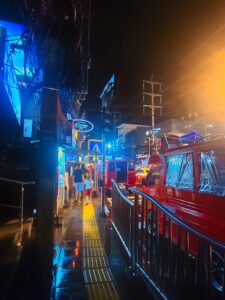 Studying abroad is stepping into a whirlwind of emotions. It's an exhilarating rollercoaster of adventures and self-discovery. It's a journey that promises growth, new experiences and countless memories. Yet in the midst of this exciting expedition, there are moments when the feeling of homesickness can creep in, even halfway through the semester when you think you've settled in.
You become emotional when you see your friends back home hanging out and enjoying each other's company. A pang of longing tugs at your heart and you just want to go home. It's natural to miss the flavors of your comfort foods, the easy camaraderie of friends and the convenience of being in the same time zone.
Amidst these waves of homesickness, it's vital to remind yourself that you are living the life that past you dreamed of. You've turned your dreams into a tangible reality, despite the hurdles and obstacles that tried to deter you. It's challenging to be far from home and miss the simple joys of the life you were accustomed to. But you're on an extraordinary adventure– one that will shape you in ways you can't yet fathom.
You should be proud of where you are. Go ahead and push yourself to explore new cities, embrace different cultures and try dishes that you wouldn't have considered before studying abroad. There's a unique thrill in the spontaneous plans with your study abroad friends, the unplanned escapades that often become the most cherished memories.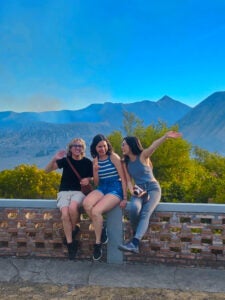 It's easier said than done, but stepping out of your comfort zone will be worth it. Every day is an opportunity to develop a new chapter of your adventure. A chapter filled with stories of courage, discovery and growth. It's a chance to immerse yourself in the vibrant tapestry of life that each country and culture offers. It's not just about attending classes in a new land; it's about absorbing the pulse of a different society, understanding new customs and finding a place that feels like home within it. These are the stories that will not only enrich your own life, but will also be shared and cherished, becoming part of your unique narrative. 
To navigate this rollercoaster of emotions, you have to ground yourself by focusing on what you value and are passionate about. Let these values guide you and realign your goals in this adventure. Set targets that align with your dreams and strive to achieve them. Remember, "Con ánimos, puedes lograr lo que quieras," meaning "With determination, you can achieve anything."  
Homesickness can make you feel adrift, especially when everything piles up academically. It's during these times that you need to hold onto your dreams, your aspirations and remind yourself why you embarked on this journey in the first place. Every obstacle is an opportunity for growth. Every low is a testament to your strength, your ability to adapt and your resilience.
Ultimately, every challenge you face during this journey, every moment of uncertainty, is an opportunity to grow stronger. You'll look back at this adventure and realize how it shaped you into a more resilient, adaptable and open-minded individual. So, keep chasing those dreams, keep exploring and keep creating stories worth telling. The world is yours to explore what you are capable of. 
This post was contributed by Kiara Itzel Vasquez, a Global Ambassador for Fall 2023. Kiara is a senior radio, television, film studies major studying abroad in Singapore.