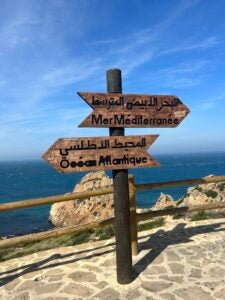 Wow. It doesn't even feel like it's been two months, but this semester has flown by. I genuinely feel like I've seen more of Morocco than I have seen of my home state of Texas. The classes I'm taking through the Institute for the International Education of Students (IES) have been incredibly enriching, thanks to my knowledgeable professors. I've gained valuable insights into the distinctions between living in a constitutional monarchy and a constitutional federal republic. It's been eye-opening, especially considering the different perceptions of monarchy in the United States.
Studying here has been incredible. It's given me opportunities to explore other parts of the world. During school breaks, I've been able to take trips to Paris, Mallorca and Rome for reasonable prices. Morocco itself has so many cool cities to offer with different vibrant characters. If I want a change in atmosphere, I don't even need to leave the country.
Tangier is a city located near the coast of Morocco with stunning views of both the Mediterranean and Atlantic Ocean. It overlooks the Strait of Gibraltar, which separates Africa from Europe. Morocco is one of the closest African cities to mainland Europe. I had the opportunity to visit Cap Spartel, located at the entrance to the Strait of Gibraltar where the Mediterranean Sea and the Atlantic Ocean meet. What was especially fascinating about Tangier was its close proximity to Spain. Because of this, I was able to practice my Spanish in the "Souqs," or markets.
At the beach, there were individuals offering rides and photo opportunities with their horses, allowing me to experience horseback riding for the very first time. However, it's essential to inquire about the prices in advance to avoid falling into tourist traps, which my friends and I unfortunately encountered. Regardless of this, I had a blast riding horses on the beach and I wouldn't hesitate to visit again.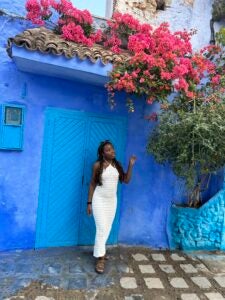 Furthermore, I had the opportunity to explore Chefchaouen, a city in Morocco that is often referred to as the "Blue City." It's nestled in the Rif Mountains of northern Morocco so its elevation provides cool and refreshing temperatures. Locals hold the belief that the city's blue paint serves to keep it cooler during the warmer months, while others think it acts as a deterrent to mosquitoes. It was a bit difficult navigating the city due to the warmer temperatures and various steps I had to climb. However, being in the mountains did offer a nice breeze, and on my climb up to different parts of the city, various paintings and murals of blue offered a nice distraction.
I decided to stay a couple more days and visit Akchour, which is a city near Chefchaoeun. It is also located in the Rif Mountains, so watching our cab driver navigate some harrowing roads like a professional was pretty awesome. After a short hike upon arrival, we found the most beautiful waterfall in a hidden area of the mountain where I enjoyed Moroccan tea made the "Northern way." I had no idea what to expect when coming to Morocco, but every city I visit leaves me completely awestruck.
This post was contributed by Arleana Mweyola, a Global Ambassador for Fall 2023. Arleana is a senior international relations and global studies major studying abroad in Rabat, Morocco.