When we last met, I was in dire straits: doubting myself, wanting nothing more than to return home to the U.S., and confronting a few unsavory aspects of my mental health. I'm elated to report that for the past two or so weeks, Ukraine has treated me incredibly well! Before we jump into all the cool stuff–yes, you do get used to the lack of air conditioning and the abundance of sweat.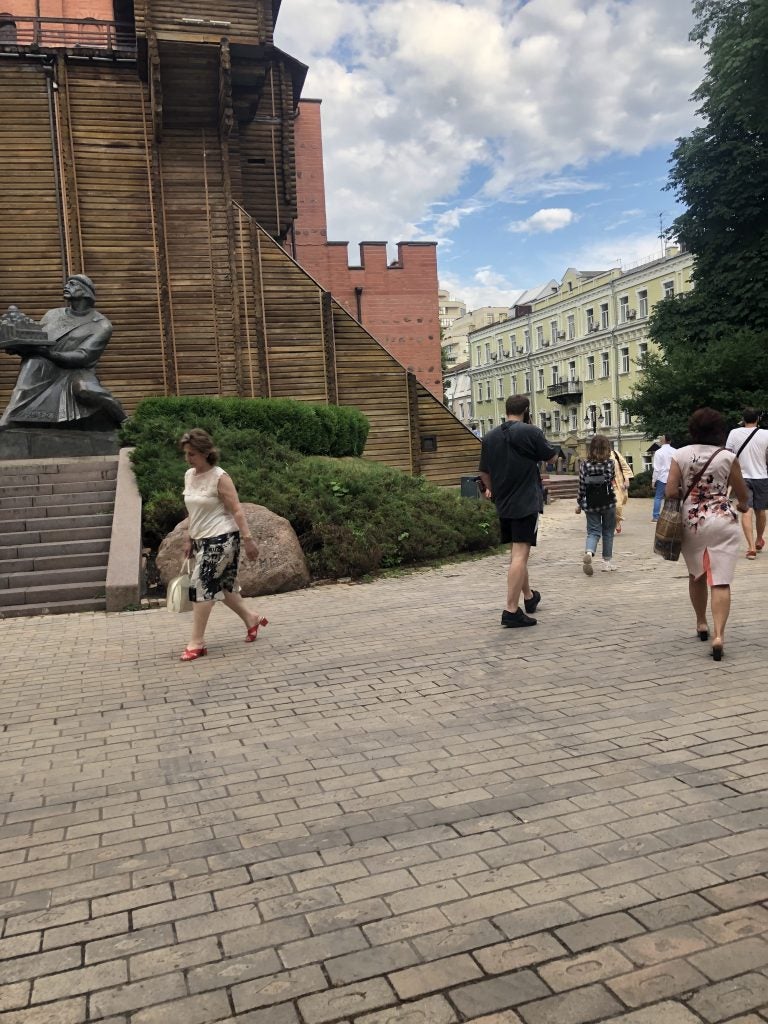 Let's start with the most important part of education abroad: education. The first day of class, I'm led through the Kyivan metro system by my host mom. I'm expected to learn the route by heart so that the next day I can be pushed out of the metaphorical nest and fly to class independently on the deepest metro system in the world (Arsenalna, a station on the red line, which I ride, holds the title of deepest metro station in the world at a staggering 105.5 meters deep or 346 ft below the Earth's surface!). After two weeks, I have memorized the whole Червона лінія (chervona liniya or red line in Ukrainian, not Russian, because everything here is in Ukrainian). It's a brisk 5-minute walk from Golden Gate station, located beside the eponymous Golden Gates of Kyiv Museum, to my school. Along the way, I stop in at Aroma Kava (a Starbucks equivalent in Ukraine) or at a local bakery, sampling the delicious pastries and quiches. Inside NovaMova, my language school, my class consists of me, several other students from abroad, and our lovely teacher. From 10:00AM to 1:15PM each day, we break down the technical aspects of the Russian language. I have nightmares about genitive plural declensions and the endless prefixes that drastically alter a verb's meaning. Homework is simple and class demands all of your attention. While each day I bring home new words and phrases, new ways to describe my existence, I consider the real learning to have been outside the classroom.
As a linguistics student, I am completely blown away by the experience of language immersion and the communicative capabilities of humans. It's astonishing to me that with barely enough knowledge to hold a shaky conversation (and surely not a grammatically correct one), I can engage in discussions with my host grandma about her experiences in Kyiv during the Chernobyl tragedy, or I can compare blood donation and children's food standards with my host mom. How can it be that we can stumble and struggle through a chat about the weather, yet I can glean from their words and hand gestures what my host family's life has been like, what they think of literature and the news, or even the pandemic? This is all to say, I suppose, that I have integrated quite well into my host family and into the linguistic environment of Ukraine.
It hasn't all been smooth sailing, though. My host mom's son (who just turned 4 this past Tuesday) was scared of me the first few days not because I was a new face, but because I was tall (ah, the joys of being 6 ft tall and a girl). I was startled one night when I went to use the restroom at 3:00AM and my host dad was watching a soccer game in the kitchen after having just gotten home from work. Still, host brother showed me his birthday gift playsets and we learned furniture words together; host dad made some delicious duck neck for dinner one night (he's a chef by profession!); and host great-grandpa wished me a happy Independence Day in Ukrainian on the Fourth of July. I feel cared for and supported.
My interactions outside of the host home have been everything but dull. While it seems like every hour of every day I was on my feet exploring, I'd like to single out a few elements: my fellow students, my adventures with food, and the magical celebration of Ivana Kupala.
If not for the other students at my school, I think that I would still be wrapped up in the cocoon of terror and dread that I started in. This holds true at home as well––people make the experience and friends lift you up when you're struggling. A majority of those studying at NovaMova are from the States, mainly from Texas even! Although I know that I'm here to improve my Russian and immerse myself in Ukrainian culture, it was an indescribable relief to hear English and to converse with students going through the same things I was. I had the added benefit, though, that I was a midway arrival. My new friends, who had started four weeks prior, acted as peer mentors to me my first week and by the next, when the rest of the students arrived, I could act as peer mentor to them. There is something vastly different yet equally satisfying about being shown underground restaurants and guided through museums, then being able to turn around and return the favor to someone else.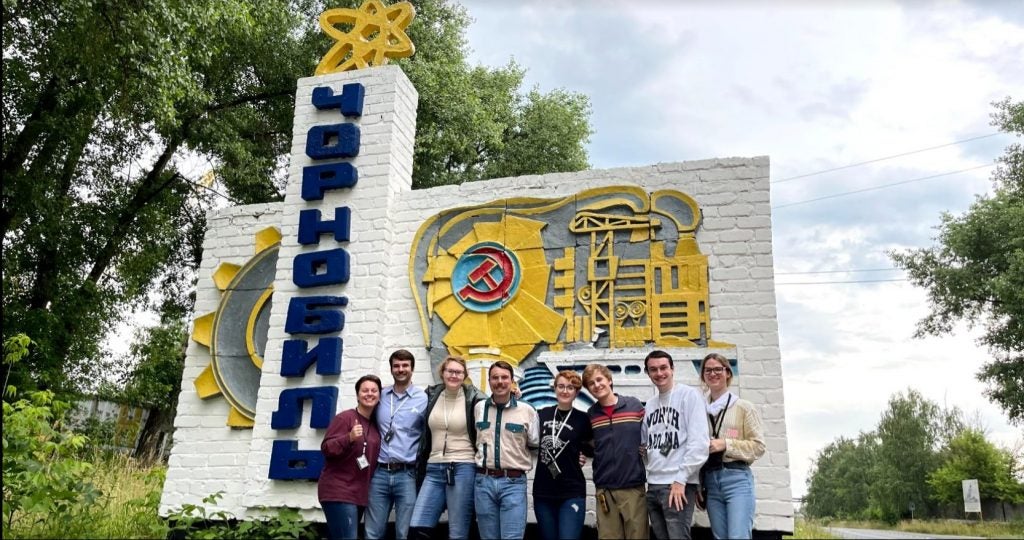 Another large component of studying abroad is the food. It's unavoidable that the everyday foods you're used to will not be available or will be expensive imports, and that every day you will be confronted with new gastronomical horizons. I cannot say enough how much I miss tortilla chips and salsa, or a simple chorizo and egg breakfast taco (or heck, even ice water!). I'd suggest when you study abroad to jump right in when it comes to the food. I'm a fairly picky eater, but I've also always had the philosophy that I should try everything once just to confirm that I don't like it. This opens up a lot of tasty doors! Soup dumplings from Georgian restaurants, pide and kebab from Crimean-Tatar eateries, a strangely sweet quesadilla from a Cuban-themed place, and all the cabbage, cucumbers, and dill you could ever want await you in Ukraine. The chips and candy from my first post were quite tasty, but also felt a little too American. The most delicious things have come from the kitchen of my host family. Yes, I have tried borscht and yes, it is amazing, and you must eat it with sour cream and black bread. I stumbled my way (as I often do) into eating duck neck one night when I saw weirdly shaped meat on the plate, ate the meat, and then my host mom began talking about ducks for some reason. My realization was painfully, comically slow, but then evoked a fascinating conversation about the first meats they give to children in Ukraine (duck and lamb).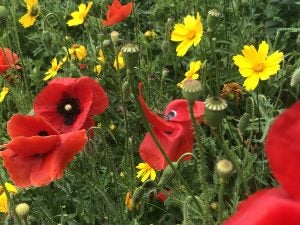 My most favorite memory thus far, though, is the unforgettable opportunity to celebrate a traditional Ukrainian holiday, Ivana Kupala or Kupala Night. Originally celebrated on the summer solstice but now held, at least in most Slavic countries, on the evenings of July 6th and 7th, Ivana Kupala is a pagan fertility festival that has undergone many changes throughout its long history. It can be generally compared to the northwestern European pagan holiday of Midsummer. Today, it is considered a romantic holiday that brings people closer to nature. After Orthodox Christian syncretization, the 'Ivana' was added to signify ties with Saint Ivan and the cleansing nature of the holiday. It is equal parts baptismal purification and folk fertility traditions. Sounds interesting, right?
On the evening of July 6th, two friends and I ventured out to the open-air museum of Пирогів/Пирогова (Pirohiv/Pirogova). It's a large swath of land dedicated to preserving folk architecture and the spirit of village life in old Ukraine. The rolling flower fields and gorgeous scenery were the perfect setting for one of many festivals in Kyiv that night. On our way there, we encountered our first tradition: it always rains on Ivana Kupala. By the time we decided to get a ride-share to the park, we were soaked from the sheets of rain that welcomed us to the holiday. After an hour or so, the rain stopped completely and we entered misty, rain-painted Pirogova. A brief trek down some muddy paths and we found ourselves by the food stalls of the park and the setup of the festival. Facing the beautiful field of yellow and white tufts of flowers, we saw some straw men and women, some giant wooden poles, and the main attraction: a bonfire.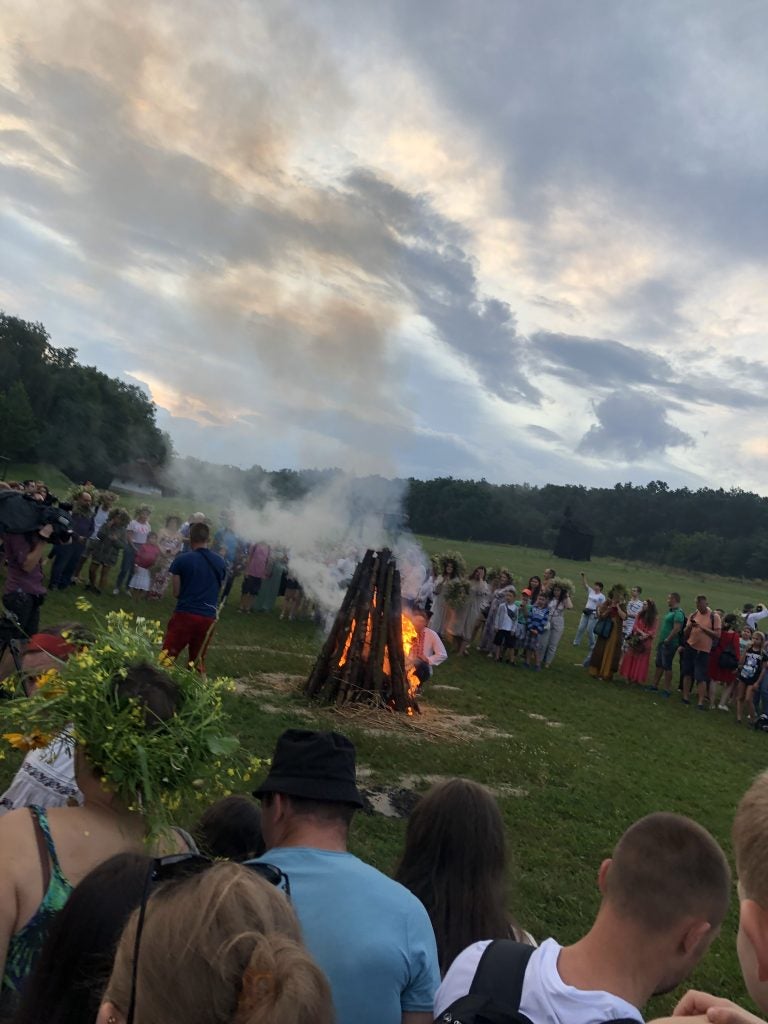 The key element of Ivana Kupala, the showstopper that the whole evening leads up to, is the practice of jumping over a large bonfire (bystander, not participant). The tradition goes that if you and your romantic interest hold hands and jump over the fire successfully, your future together is blessed. Likewise, if you break your handhold, that's a bad omen. If you simply want to be cleansed of the previous year's energies, you can also jump solo. But the bonfire takes time to perfect, so when we arrived, despite the late hour, the large assembly of logs had yet to be lit. Pirogova employees were dressed for the occasion in long white dresses or shirts and typically no shoes, enormous flower wreaths adorning the heads of female employees. As we approached the tables for weaving flower wreath crowns, we were quickly ensnared in a dancing circle, hands swinging up and down, in and out, our feet splashing through puddles, and laughter bubbling up out of our chests as Ukrainian folk music blasted from modern speakers.
Over the course of the night, we weaved our own flower crowns, spoke in Russian with Ukrainian festivalgoers, and danced and danced and danced. At some point, the large poles were set ablaze, and the bonfire preparations began. A man in a traditional Ukrainian shirt and Levi's would occasionally kick the bonfire to knock down the smoldering logs. Hours of festivities later, people lined up excitedly at the chance to jump over the fire. Couples and individuals alike took a running start and leaped over the flames, yet still, the line stretched out into the vast field. My friends and I knew we needed to catch the metro home, so no jumping occurred on our part.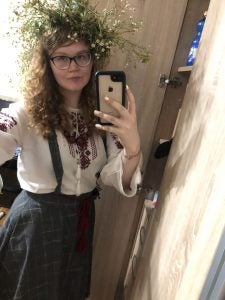 This was probably for the best though, as when I was stood in the metro car (extremely damp and extremely out of place in traditional Ukrainian clothes and a chaotic flower crown), a girl carrying upside-down daisies asked me if I'd come from Pirogova. We spoke between moments of loud grinding wheels on tracks about Ivana Kupala, my time in Kyiv, and her recommendations for museums. By the time I got to my stop at the end of the line, I thanked her and asked her if this was her stop, too. Turns out she'd missed her stop to continue talking with me! I'm still flattered at the experience. The next night, my friend and I set our dried flower crowns adrift on the Dnieper River running through Kyiv, as is tradition. There have been many more experiences like this, where I've needed to center myself and appreciate the moments I get to create here. There will also be plenty more, as I still have five weeks left in my program. Bring it on, давай (davai or a casual "let's go")!
P.S. They don't seem to have ice packs here in Ukraine. The whole concept even seems foreign to those I ask (from school employees to my conversation partner, to the employee at the pharmacy). Perhaps a re-freezable ice pack is something to consider bringing with you if you're like me and suffer from poor joint support. Your swollen feet and legs will thank you.
This post was contributed by Kylie Heitzenrater, a Global Ambassador for summer 2021. Kylie is a Linguistics and International Relations & Global Studies double major studying abroad in Kyiv, Ukraine. Read her first post here.