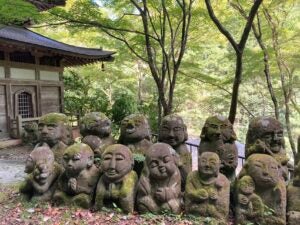 I have been lucky enough to study abroad in Japan for three semesters: two at Kyoto University in Kyoto and one semester at Waseda University in Tokyo, which I am now more than halfway done with. Classes abroad have been much less rigorous and intense than those I have taken at UT, leaving me to instead focus on mastering the "art of doing nothing."
By the art of doing nothing, I don't mean sleeping until noon and watching TikTok for two hours (though I have had a few of those days, if I had to be honest) but rather, I have learned to slow down and mull over the world around me.
During my first two years at UT, I always felt incredibly busy. In my classes, I was tackling seemingly never-ending assignments, while outside of class, I kept myself busy working part-time at a restaurant as a line cook. I tried to spend as much time as possible with my younger siblings who live in Austin and also stay active in the organizations I was a part of.
While I really enjoyed the life I had at UT, looking back, having my time constantly occupied by outside factors didn't allow me to process how I was really thinking and feeling about the world around me. I wasn't entirely present in my own life.
However, in Japan, especially in Kyoto, I was able to learn and partake in the art of doing nothing. Walking around winding streets with no destination in mind, only to stumble upon empty, mystical temples, I was free from the constant distractions I had while in Austin. My thoughts were able to ebb and flow undisturbed.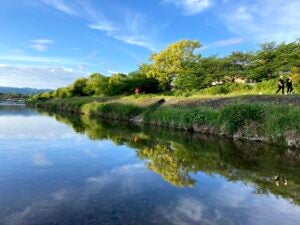 I felt that my creative side was able to thrive. I started journaling and reading regularly, as well as writing guitar songs. My way of seeing the world changed drastically. I learned to notice and appreciate the smallest of things.
In general, I think life in Japan allows more time and energy to be devoted to aspects that are not directly related to one's job or academic career. Hobbies are more thoroughly pursued. On beautiful sunny days in Kyoto, people would line the Kamogawa River to practice playing instruments. I would walk down and be able to listen to people casually playing the saxophone, guitar, or conga drums. There was even a group of older Japanese people who would regularly gather by the river to play American banjo music together.
I have realized, after living in Japan for over a year, the constant capitalistic pressure that consumes the American way of living. If someone has a restaurant or café in the U.S. that is doing well, I think the general flow of thinking would be focused on how to continue increasing profits. The business owner would feel pressure to open a second shop or increase production, at the risk of compromising the product quality or enjoyment of their life.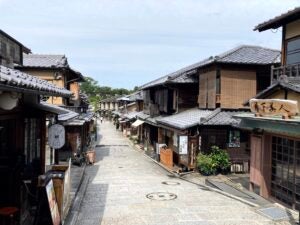 In Japan, however, there is a great appreciation for doing something well and stopping at just that. There are so many tiny shops in Kyoto that I can't imagine are very profitable but the owners are respected for the art and dedication they put into their craft.
As the spring semester here at Waseda wraps up in six weeks, I know I will soon be heading back to UT for one final year. I hope to take with me the "art of doing nothing" that I have learned while here in Japan. To savor my life in moments rather than minutes, to do something just because I enjoy it, to appreciate the world around me as if I were only there temporarily, just like I have done for the past three semesters.
This post was contributed by Mika Woollett-Chiba, a Global Ambassador for spring 2022. Mika is a senior and Anthropology and Asian Cultures & Languages major studying abroad in Kyoto, Japan. Read her first blog post here.