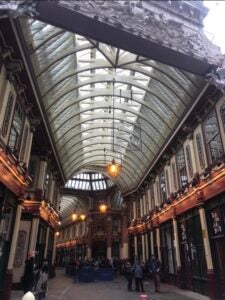 Before coming to London, I counted myself lucky for never having tasted "mushy peas." I recoiled at pictures of beans on toast and something called "black pudding," a type of blood sausage originating from the U.K. and Ireland. 
There's a sort of universally accepted stereotype that British food has less to offer than some of their European counterparts. France has croissants and macarons, Italy has handmade pastas and cured meats… you get the idea.  
Only now that I've been in London a few months, I must apologize to the Brits because British food is full of hidden gems. The traditional cuisine offers literal warmth as well as a sense of comfort. The more I think about it, the more it makes sense — the country has so many rainy days and cold gray skies, it's only natural that the food would be both caloric and cozy. I can now say that nothing beats a hot drink and a steak pie from the local pub while watching the rain through thick windows. In fact, Sunday roasts have become a new tradition for me and my friends, as a way to round out a stressful week.  
If the local fare wasn't enough to tempt you, London is truly diverse, offering a taste of another culture on every street. Indian restaurants dot the city and Chinatown beckons with its red lanterns, drawing you into their dumpling houses and bakeries selling pandan cakes and custard taiyaki. Family-owned Turkish and Italian joints are easily found, as well: just look for the giant displays of pide bread and rosemary focaccia stacked in the windows.  
In this aspect, London is similar to Austin. Despite the considerable lack of good Mexican food options (I've only seen a single Chipotle so far), the ethnic diversity of London and the cuisines it has to offer is comparable, if not superior, to Austin. People of every ethnic group, race, and religion can find a good meal here, whether it be surprisingly tasty English food or a comfort dish from childhood.  
London is more of a melting pot than I realized when I first arrived, and this couldn't please me more. I can satisfy my comfort food cravings with something my own mother would make at home, or a specialty pastry from an Asian bakeries reminiscent of the ones in my hometown, as well as try other cultures' cuisines.  
Perhaps London is given an unfair stereotype. Many still think of it as a city old in both its history and its ways. In reality, London has changed dramatically over time, turning it into a truly modern city with a cosmopolitan culture to match. The food scene is just one, albeit very noticeable, part of this evolution, and it's certainly something I'm grateful for. 
This post was contributed by Sarah Joung, a Global Ambassador for Fall 2022. Sarah is a junior pursuing international relations and global studies with an emphasis on culture and media, studying abroad in London. Read her first blog post here.