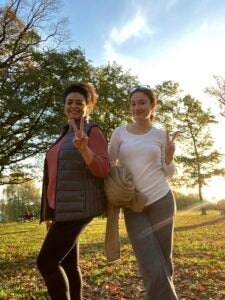 A lot can change in a month. My last post was in early October, a time I'd choose in an instant over my current affairs, several weeks later.
Back in October, I claimed that when studying abroad, you need to get comfortable with the idea of being alone. I realize now that what I really meant was, you need to be comfortable with the idea of being lonely.
It took many tears and a weeklong trip to visit my family in Augsburg to come to this conclusion. I learned that being alone is the physical state of being by oneself, whereas being lonely ascribes an emotional value to this physical state.
The end of October brought with it intense feelings of loneliness. Whereas I'd found myself entering this experience with a solid friend group, just a couple of weeks later, this friend group had dissolved right before my eyes. I felt as though I had been completely disconnected from my life back home, and at the same time, I felt a lack of connection with my current home.
I have always carried with me the philosophy that everything happens for a reason. So, although it was difficult, I moved on.
Except, I didn't. The idea of myself as a free floater without a friend group continued to weigh on me; I felt both confused and unappreciative of the friends I still had. These are struggles I continue to work through.
When I first started feeling sad, I reached out to my friend Zeynep, who offered to meet up with me. I felt so embarrassed she had to see me puffy-eyed and red-faced, but all she said was: "Let it out."
That day, I learned that western societies have ingrained in us the idea that we need to be tough. Our sadness is meant to be hidden from the public sphere.
Zeynep is from Turkey, and she tells me that the sense of community there goes as far as sharing the burdens of your peers. When someone asks, "Are you OK?", they expect a genuine answer. I think this is something our society in the U.S. should develop more of.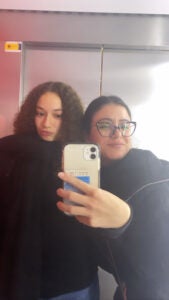 When feeling low, it's important to find a support system — a group of people, or even just one person to talk to or meet up with. Zeynep and I are that for each other, and I am forever grateful for her.
Especially when studying abroad, it's important to know that social media depictions of life abroad are not representative of the whole experience, because these tools are a means of highlighting only the best parts of our lives.
One time during a melancholic episode, I found myself scrolling through social media, wondering what I was doing wrong. It seemed like all my peers were having the time of their lives with all their friends.
I have now come to realize that these very same people feel lonely the same way I do sometimes; they just distract themselves with the company of other people and things.
Distractions can be both positive and negative. On one hand, they provide an "out" for feeling lonely. For example, filling up my schedule has made me feel less lonely, because I now have little missions I need to accomplish, and this occupies much of my time. But distractions are only temporary. At some point, we will have to confront our thoughts.
I am learning to overcome these feelings of loneliness so that I may be better equipped to handle the obstacles that will surely come post-graduation.
It is okay to feel confused, dejected or unmotivated; these feelings are part of the process. I recommend that if you feel these things, whether studying abroad or not, vocalize it.
The first week of November, following my return from Augsburg, I opened a discourse on my Instagram page about how I was feeling, hoping I could offer support to anyone feeling similarly. I got so much feedback from people not only offering their own support but also agreeing with the importance of being vulnerable and opening up to draw attention to these issues. Expressing your feelings is crucial because more likely than not, there is someone else that feels the exact same way.
I think it is important to discuss these topics, especially if you are thinking of studying abroad. Everyone's experience is different, but we share one thing in common: We are all just trying to navigate a foreign place. I may be going through a tough time, but I still wouldn't trade this experience for the world.
This post was contributed by Vanessa Mathis, a Global Ambassador for Fall 2022. Vanessa is a sophomore majoring in anthropology with a minor in history, currently studying abroad in Würzburg, Germany. Read her first blog post here.