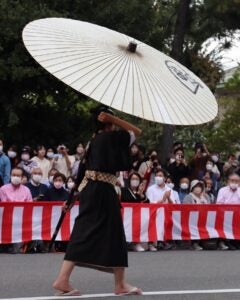 I have never considered myself to be a big "holiday person." While I appreciated the chance to come together with friends and family, holidays were never treated like a big deal. My family would participate in the usual traditions, such as setting out candy on Halloween or giving presents on Christmas. Still, these were always treated as casual affairs, nothing to put too much thought into. What I didn't expect when I came to Japan was to miss the holidays back home while also finding joy in the new holidays I got to experience here. 
This October, Kyoto celebrated Jidai Matsuri, or the Festival of Ages. For almost a thousand years, Kyoto was the capital of Japan. As a result, this city is rich in history, and the people who live here are extremely proud of the cultural importance of their city. The festival is a procession of the important historical figures throughout Kyoto's time as a capital, starting with the Meiji Restoration (1868) and working backward to the Enryaku period (782–806). The procession lasts for several hours, winding through the streets of Kyoto. I was lucky enough to grab a spot to sit with my friends along Sanjo Street, where I got to closely observe all the people who passed.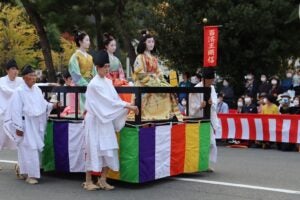 In November, I lamented to my friends about how I would miss Thanksgiving dinner. At first, this was mainly a joke. In the past, I never got too excited for Thanksgiving, though I did enjoy the process of preparing food with my mother. However, my friends took me seriously, asking questions about all the traditions around Thanksgiving, and what celebrating it was like in the United States.
It may sound a little silly, but I was struck by how important this holiday felt to me. Having a specific time dedicated to sitting down and reflecting on all the privileges that I had been given in life, all the things for which I was grateful, felt like an important tradition I had taken for granted. It did pull at my heart to know that I wouldn't be with my family to reflect on this before the year came to a close.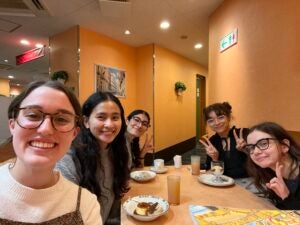 In response to this, my friends were adamant that we have Thanksgiving here in Japan. Although they all had a test the next day, and it had already been a long day of classes, we went out to a restaurant and ordered an (Italian) Thanksgiving dinner. I got to listen to my friends talk about all the things they were grateful for this year: the chance to come to Japan, their close relationship with their mothers or siblings, the health and safety of the people they loved back home, and all the new things they got to see and experience in this country, including the new experience of having a Thanksgiving dinner.
It filled my heart with joy to see this holiday celebrated by a wide array of people who took so seriously what I saw as silly traditions and taught me the importance of a holiday that was already my own.
As I write this, it is early December here in Japan. For weeks now, little cardboard Santas and reindeer have been placed in stores. When walking through a grocery store, you can see rows and rows of Christmas chocolates placed out or paper advertisements for preordering a Christmas cake. I'm excited to be able to experience a familiar holiday made new here in Japan, and more than anything, I look forward to sharing it with these new friends, whose sincerity in experiencing every tradition, no matter if it's from Japan or elsewhere, is what made me reconsider these holidays that I once took for granted. 
This post was contributed by Claire Wilson, a Global Ambassador for Fall 2022. Claire is a junior double-majoring in international relations and global studies and Japanese language and culture. She is studying abroad in Kyoto, Japan. Read Claire's first post here.