This week, I kicked off the month of Ramadan during my exchange at the National University of Singapore (NUS). The multicultural city of Singapore takes various cuisines and holidays to the next level, including Ramadan. Many of the friends I've made here were excited — as was I — to experience holidays in Singapore, especially ones that usually go unnoticed in our home countries.
I knew Ramadan was going to be tough with the hot and humid weather in Singapore, but having such a prominently Muslim population here has given me much comfort. Locals gave me their insider tips and tricks to stay hydrated, such as drinking a glass of coconut water before bed, and where to get good deals on dates at the Mustafa Centre in Little India.
There are also many accommodations that were entirely new and incredibly comforting to me as a Muslim American. For example, NUS residences arranged for those celebrating Ramadan to pick up "suhoor," or breakfast before fasting, the night before. Additionally, some dining halls allow you to collect food before regular breakfast hours. Nationally, Eid, or Eid al-Fitr, also known here as Hari Raya, is a public holiday in Singapore.
I felt much anticipation during the first few days leading up to Ramadan, but as it started, it was honestly a little underwhelming. I woke up alone for suhoor during the 5 a.m. quiet hours. "Iftar," the evening meal to end the fast, felt odd without my family, a hectic kitchen, and the spread of Pakistani Ramadan dishes that I'm used to.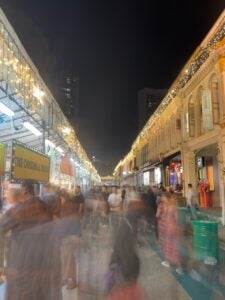 Slowly, I began to find new spaces of familiarity and tradition to celebrate Ramadan in Singapore. The first night of Ramadan, I met a group of Muslim exchange and international students for the first iftar. If you look, you'll find a community at NUS, despite being this far from home.
It was a great feeling to share this tradition with so many other students. We made plans to visit local mosques for night prayers and explore the Ramadan markets that have popped up in Singapore after a long COVID-19 hiatus.
It was at one of these markets that I experienced the feeling I had been waiting for. I heard that Arab Street would have casual snacks for Ramadan and decided to go with my friend Tappy. When we arrived, we found ourselves amidst a full-fledged Ramadan night market. I can't pinpoint if it was the sparkling lights hanging from the buildings, the large crowds of Muslim families and other Singapore locals, or perhaps the loudspeaker recitation of the night prayer in the central Sultan Mosque. But suddenly all the familiar feelings associated with Ramadan that had eluded me until that point began to flood in.
The familiarity I had been longing for came in things that were entirely different from how I celebrated Ramadan with my family in the United States. None of the traditional Ramadan food I grew up with was available here. Instead, I was introduced to a heavily Malaysian-influenced Ramadan cuisine, including what my friend explained as the "best version of a burger to ever exist," also known as the Malaysian Ramly burger.
Being able to get iftar from a variety of cuisines with a wide array of halal options isn't something I ever found in Austin. Equally surprising and delightful was a complimentary set of dates accompanying each meal. The very market in which I was standing was a novelty itself. It was one of the moments when I realized how grateful I am for the experience I'm having here.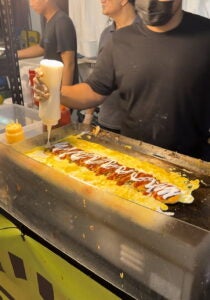 It wasn't the familiarity with the traditions and foods that ultimately gave me a sense of comfort. Instead, it was the solidarity in Singapore including the shared sense of celebration and spirituality that comforted me. I love that I can walk through Singapore and come across a mosque at which to pray with ease. Finding new traditions and people to share the celebration with made this year's Ramadan in Singapore one that I will remember for a lifetime.
Coming to a country where the Muslim population is 15.6 percent, I was expecting a celebration, but what I've experienced is more than I could have imagined. The opportunity to learn more about my own identity and my connection to other people and cultures has been one of the best parts of studying abroad.
This post was contributed by Emaan Khan, a Global Ambassador for Spring 2023. Emaan is a junior international relations and global studies and biology major studying in Singapore. Read her first blog post here.