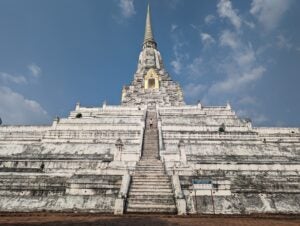 At 5:00 one morning, I was abruptly awoken by the ringing of my alarm clock. The pitch-black sky outside the slats of my blinds made me want to indulge in more sleep, but I managed to get out of bed. Soon after I woke up, I savored two delectable chocolate pastries and drank a few sips of orange juice before resolutely washing my hair in preparation for my early flight.
What, you may ask, possessed such tremendous power to pull me from my comfortable bed? It was the thrill of venturing to Thailand during recess week at my school in Singapore.
This experience has been the first time I'd lived so close to the equator — but despite the newness, the hot and humid climate did not dampen my enthusiasm for exploration. I vacationed in Thailand not just to unwind before midterm exams like many other exchange students (I'll admit I had to review for my economics exam while traveling). I also visited Thailand to personally experience a place we had discussed many times in my "China and Southeast Asia: Past and Present" class: My 10 Singaporean classmates and I repeatedly attempted to delve into the region's past, primarily through historical references.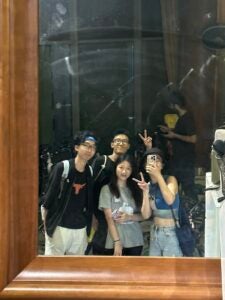 Although we'd studied Southeast Asia countless times, nothing was as impactful as seeing it with my own eyes. Unlike many exchange students who mainly visited Phuket and Bangkok, my classmates and I followed the advice of a Thai exchange student and spent two whole days in Ayutthaya, the ancient capital of Thailand.
The ancient ruins were no longer mere depictions made by colonizers, nor were they the dilapidated debris displayed in pictures from textbooks. Standing atop Wat Phu Khao Thong, which was constructed hundreds of years ago, I felt especially small in the photo because this Buddhist building is incredibly large. I recalled that it had also undergone the period of the Ayutthaya Kingdom, which we had discussed in class. During this time period, the Thai king sent an envoy to China through the Strait of Malacca.
Undoubtedly, I have not finished exploring Singapore. When reflecting on this fact, I always endeavor to discover the distinctive features of this place. Almost every day after class, I indulge in "Yong Tau Foo," a Hakka Chinese delicacy,. I have also grown accustomed to being caught off guard by both the unexpected rain and the diversity of perspectives expressed by students during discussions.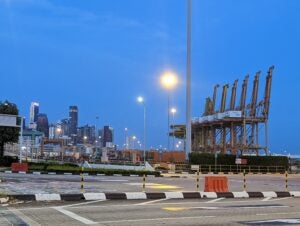 Looking back to my exchange experience at The University of Texas at Austin, I recall becoming so preoccupied with acclimating to a new environment that I had become entrenched in the monotony of everyday academia. This caused me to lose sight of the vast and unknown experiences that were waiting to be explored while living in a new place.
Yet, this time around, I have undergone a remarkable transformation by actively seeking to integrate myself into Singaporean life as a participant rather than a mere observer. Especially after attending a Singlish learning event for international students last month, I have observed a shift in the logic of my English usage from the familiar "Yes, of course!" to the highly authentic expression, "Can lah!"
I am surrounded by cultures and feel like a kid assimilating into this new place. As night falls, cargo ships near the ports turn on their lights as usual. Lost in the allure of the myriad ships within the strait, by the time I tried to find one seemingly stationary ship, it had already slipped from my view. How could those admiring the view know where it is headed and what it carries? To Singapore, I may only be one of many cargo ships, having only one more month here before leaving. But when I depart, I will certainly not leave empty-handed.
This post was contributed by Ruixun Zhang, a Global Ambassador for Spring 2023. Ruixun is a sophomore international relations and global studies and economics major studying in Singapore. Read his first blog post here.