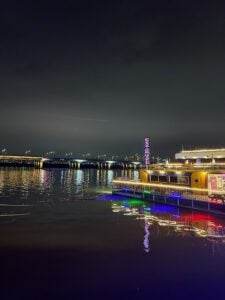 Leaving home changes you. After deciding to leave Brazil to study in Texas, I learned that changing our environment can shape who we are, the decisions we make and the people we strive to be. And now, my decision to travel to South Korea has profoundly impacted me as a human, student and friend. 
Studying at Yonsei University and exploring South Korean culture, I have come to appreciate how cultural differences play a vital role in shaping identity. Despite growing up half-Korean amid my grandmother's constant reminders about what it means to be Korean, being in the country has given me a deeper understanding of the culture.
Prior to this experience, I had never visited Asia. Despite my grandmother's efforts, I hadn't grasped the true essence and intricacies of her Korean heritage. Being in South Korea has shown me that humanity outweighs our differences, regardless of where we grew up. 
Immersing myself in South Korean culture through tea ceremonies, palace visits and food markets has been both welcoming and challenging. Embracing these cultural differences has allowed me to gain a better understanding of my own identity. Exploring unique cafés, photobooths and stationery stores has become a delightful hobby — a hobby that pushes me out of my comfort zone and encourages me to communicate with locals despite the language barrier. These experiences have taught me that growth often comes from navigating unfamiliar territories. 
South Korea's deeply rooted history and heritage have left an indelible mark on the country's character. Learning about the history of South Korea by visiting palaces and taking tours has shown me the enduring influence the past has on the present. Observing how my grandmother continues to carry her Korean identity, even after living outside the country for over 40 years, exemplifies the profound impact of culture on one's sense of self.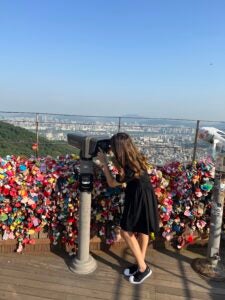 As a student, I'm immersed in a diverse academic environment at Yonsei University, where students from various backgrounds converge to study the same subjects. Yonsei University's campus culture embodies a genuine sense of unity and shared experience. This multicultural setting has provided fertile ground for intricate cultural exchanges, especially in my marketing class.
Collaboratively discussing how to approach the same company in different countries has highlighted how our diverse cultural upbringings influence our decision-making processes. Interacting with people from all corners of the world has emphasized the significance of cultivating an inclusive future and breaking down barriers that may distance us from one another. 
As a friend, being away from home has reminded me of the irreplaceable support of my friends and family. However, stepping out of my comfort zone and exploring South Korea with newfound friends has given me a fresh perspective on life. Different interpretations and viewpoints have enriched my experience, allowing me to find a sense of home within the connections I've made here. I now understand that my identity is not only shaped by my place of origin but also by the communities that surround and embrace me.  
Studying in South Korea has been an incredible adventure, inspiring me to embark on the unknown, meet new people, discover new aspects of myself and cherish my home in a profound way. This experience has opened my eyes to a world of possibilities and will undoubtedly influence other versions of myself as a human, student and friend. The lessons learned and the memories cherished will forever shape my journey through life.  
This post was contributed by Nicole Sakaue, a Global Ambassador for Summer 2023. Nicole is a junior economics and international relations studies major studying abroad in Seoul, South Korea.