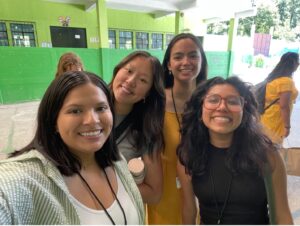 As my first month in Antigua, Guatemala comes to an end, I find myself strolling down memory lane, reminiscing about the magical moments I've experienced. From my initial footsteps on the charming cobblestone streets to the splashes of water from passing "tuk-tuks," which are three-wheeled taxis, every day has been an adventure. And oh, the sight of volcanoes encircling this enchanting city has truly been a sight to behold. 
As I embarked on my enriching journey to Guatemala, little did I know that it would be a place that would steal my heart. Guatemala, with its vibrant culture and breathtaking landscapes, became my chosen destination. And what made it even more special was the opportunity to be an English teacher in this beautiful country. 
Twice a week, I eagerly made my way to the Volcan de Agua, where a heartwarming experience awaited me at the local Indigenous school, Santa Maria de Jesus. This school exudes a warm and welcoming atmosphere, and my 35 bright sixth-graders have an incredible enthusiasm for learning that is truly infectious. 
As I stepped into the classroom each day, I was greeted with anticipation and excitement in my students' eyes. It's a beautiful exchange of cultures and knowledge as I share the English language with them, and in return, I learn about their unique customs and traditions. The classroom becomes a vibrant hub of growth and understanding, where young minds embark on a journey of languages together.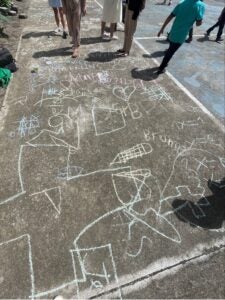 Teaching at Santa Maria de Jesus has been a revelation. Witnessing the progress and growth of my students as they grasp new concepts and confidently communicate in English is a rewarding experience. Each class is filled with laughter, shared learning moments, cultural songs and a profound sense of pride as I see their confidence soar. 
Being an English teacher in Guatemala has taught me invaluable lessons about patience, resilience and the transformative power of education. It's an experience I hold dear, and I feel grateful for the opportunity to contribute to the bright futures of these students. 
I am also captivated by the enchanting, luscious greenery that surrounds Antigua. The sights inspired me to embrace an exciting opportunity and make a positive impact on the environment. I decided to volunteer with a local organization dedicated to leading Guatemala's reforestation movement. 
The journey began with an exhilarating ride on the renowned "chicken bus," setting the tone for the day ahead. We rode all-terrain vehicles (ATVs), which navigated us through picturesque landscapes until we arrived at the awe-inspiring Finca El Pilar in Sacatepéquez. Miles upon miles of lush beauty surrounded us, filling us with awe and gratitude for nature's wonders. 
Amid this scenery, we embarked on an endeavor to plant over 300 trees. The experience was humbling and gratifying, knowing that we were actively contributing to the restoration and preservation of the natural habitat. As each tree found its roots in the fertile soil, a sense of purpose and pride filled our hearts.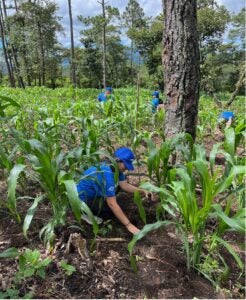 The impact we made on the environment was visible, and it reaffirmed the power of collective action in creating positive change. It was more than just planting trees; it was a shared commitment to safeguarding our planet for future generations.  
As the sun set over the horizon, casting a golden glow on the green landscape, I couldn't help but marvel at the beauty of Guatemala — a place where my passion for teaching and my dedication to environmental conservation intersected. This journey of teaching and reforestation has been transformative, leaving me with cherished memories and a profound sense of purpose. 
As I continue to nurture young minds in the embrace of Guatemala's stunning landscape, and as we sow the seeds of environmental stewardship, I am reminded that each step we take, no matter how small, can create ripples of positive change that extend far beyond our imagination. This journey is an ever-evolving one, and I feel truly honored to be a part of something greater than myself. A journey that is shaping the future of both the incredible students I teach and the beautiful country I currently call home. 
This post was contributed by Nathaly Rodriguez, a Global Ambassador for Summer 2023. Nathaly is a senior international relations and global studies major studying abroad in Antigua, Guatemala.